There was much excitement in Berkeley Square as the 111 exhibitors at the LAPADA Art & Antiques Fair put the finishing touches to their stands, and the Selection Committee met to judge 'Best Stand and Best Object Awards' yesterday.
It's a thrill to be asked to be a part of the panel of judges, among museum directors, interior designers, art curators and collectors. Not least as this means an early preview of the fair, but also so that H&A can share the highlights for those of you hoping to visit over the coming days. Here are the pieces and stands that captured the Selection Committee's imagination, to help you shortlist what to see amidst the hubbub of the fair.
You are watching: Homes & Antiques Guide to the LAPADA Art & Antiques Fair 2017
ANTIQUITIES
Roman Inscription, ArtAncient, Stand 8
Making a debut at the fair, before it is donated to a national collection for public display, is this Roman slab dated 1 AD, thought to be one of the most important Roman inscriptions ever to be found in Britain. The Selection Committee was unanimous in their admiration of the quality of the carving, which, despite the age of the slab, remains remarkably crisp. The words are thought to be the first record of Bassus, a veteran of the Roman army and soldier in the 2nd legion, who is believed to have taken part in the invasion and conquest of Britain. Look for the vine leaves, which decorate the slab like ancient graffiti.
H&A recommends a trip to see this beautiful and important historic document as it goes on display for the first time at the LAPADA Fair and we love the fact that this antiquity was only recently excavated by a lady who found it buried in her garden in Dorchester. Excuse us while we pick up a shovel and head out to our own backyards!
GLASS & CERAMICS
'The Faith' Gio Ponti for Richard Ginori, Florence, 1931 Raffaello Pernici, Stand B55
H&A readers and fans of mid-century modern look again! While we might conjure images of his trademark pieces of furniture, lighting and glass from the 1950s and 60s when we think of Gio Ponti, he was in fact a ceramicist early on in hiscareer. Ponti designed and made this rare feathered vase, bringing his sense of modern design to the Richard Ginori factory in 1931. This unexpected piece, acquired by dealer and ceramics specialist Raffaello Pernici from a private collection in Italy, captured the imagination of the Selection Committee for its mint condition and beauty.
FINE ART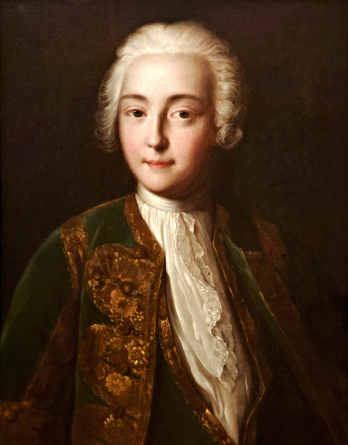 Portrait of Tsesarevna Elizabeth Petrovna (Later Empress Elizabeth I of Russia (1709-1761) dressed as a man. Oil on canvas by Louis Caravaque (1684-1754)
Sphinx Fine Art, Stand A20
For many years the identity of both the sitter and artist of this intriguing portrait remained a mystery. It was recently rediscovered as it passed through several auction houses via the Russian art market and was acquired by Sphinx Fine Art. It transpires that the subject, who appears to be a handsome, fine boned young man is in fact the Tsesarevna who eventually became the first Empress of Russia. The Tsesarevna is known to have been vain and, as she thought she looked good as a man, she liked to cross-dress, though historians may also deduce that it might have also been a political move, as she was vying for her new position as Empress.
Read more : Upcoming UK Art Fairs in 2022
The artist Caravaque was an influential Russian painter and his style was much imitated as he went on to paint many regal portraits. The Selection Committee felt this early work was intimate, important and unusual. A must-see at this year's fair.
FURNITURE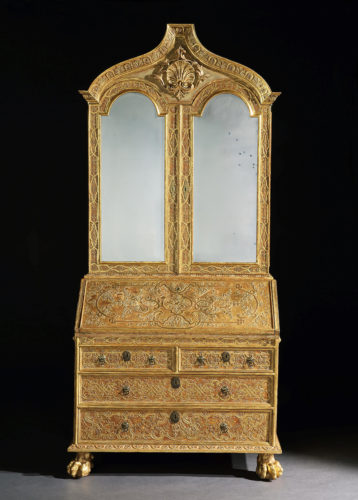 George I giltwood secretaire, James Moore
Mackinnon Fine Furniture, Stand A2
With its exquisite, intricate gilding, this fragile piece – the largest known to still exist by James Moore, the Royal cabinetmaker for King George I – is a real showstopper. Made for the Portuguese Royal Court during the reign of King Dom Joao V (1709-1750) it emerged in Portugal in the 1970s. Incredibly rare and delicate, the committee was stunned by the cabinet's near flawless condition, despite its age and various restorations.
JEWELLERY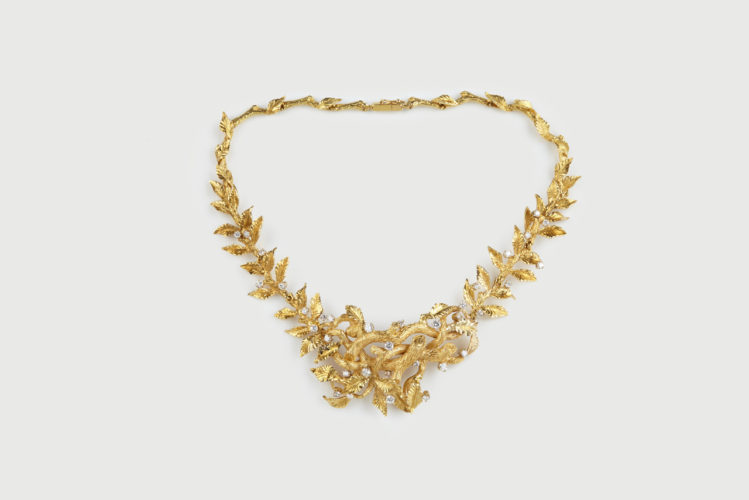 The Tree of Life Necklace, early 1950s, Salvador Dalí
Didier, Stand A10
Who knew that the surrealist Dalí made jewellery? When he stayed at the St Regis Hotel in New York for an extended period in the 1940s, he apparently turned his hand to designing jewellery and he undertook private commissions to pay the bill. Though it's unknown who this unique piece was made for, Dalí's signature is evident on one leaf on the central element of the necklace, which features textured twigs and vine leaves. Bearing 33 brilliant cut diamonds and set in 18-carat gold, the necklace was made in the workshop of Alemany & Ertman, New York. The exquisite statement piece is on sale for £190,000.
SILVER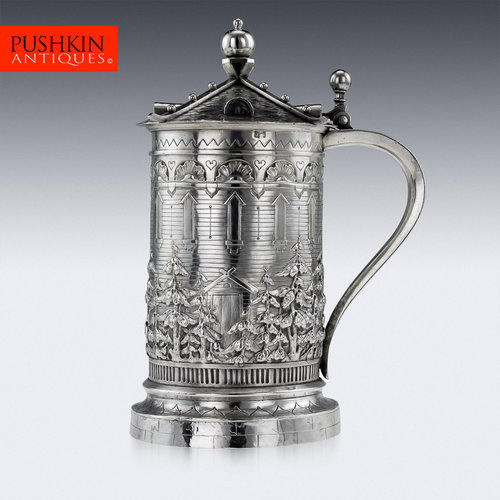 19th century tankard
Pushkin Antiques, Stand C10
A piece that has to be handled to be fully appreciated, this decorative tankard in trompe l'oeil resembles a very detailed house in pan-Slavic style featuring wood-clad walls and a fish-scale roof, surrounded by pine trees in solid silver. Dating to 1871 Moscow, this Imperial Russian piece is fully hallmarked with the Russian silver mark 84 (875 standard) and shone through as a very rare and prized example.
TEXTILES
Read more : List of antique furniture makers marks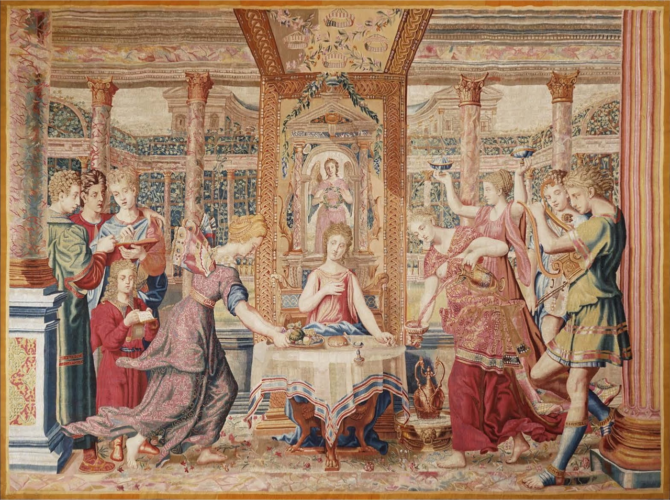 'Le Repas de Psyche' Paris 1680
Boccara, Stand A6
Woven by Ateliers du Faubourg Saint-Germain, this 17th century tapestry in silk and wool was one of six pieces made originally for the king of France. Recently discovered in a castle near Bordeaux, the Selection Committee was astonished to see how the vibrant colours still are (thanks to the darkness of the room in which it had been hung had) and the excellent condition of the tapestry despite its age.
It's worth a trip to see the intricate detailing, fine weaving and craftsmanship of this large, rare tapestry up close, which draws in the viewer with its rich scene.
AND DON'T MISS…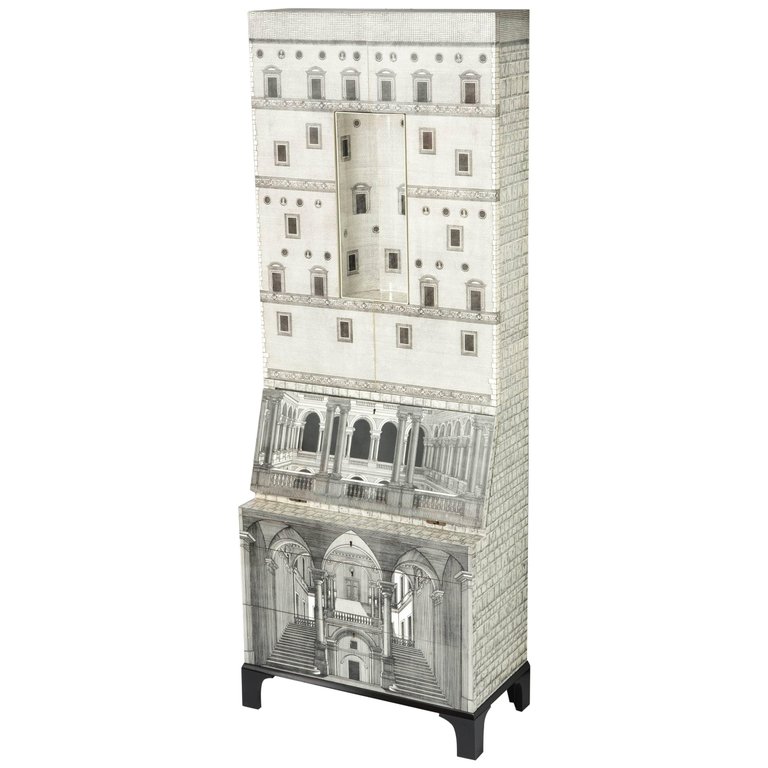 Trumeau Architecturra by Piero Fornasetti
Holly Johnson Antiques, Stand B33
We're huge Fornasseti fans at Homes & Antiques and this year Holly Johnson's stand (B33) is home to an iconic cabinet, which Piero Fornasetti designed in the 1950s in collaboration with Gio Ponti based on the architectural features of the Alessi Palace in Genoa. This example, re-issued in the 1970s, is fresh, fun and has all of the of the classical detailing inside and out that gives Fornasetti's designs their unique three-dimensional quality. The Selection Committee all agreed it is a piece they'd aspire to have in their own homes.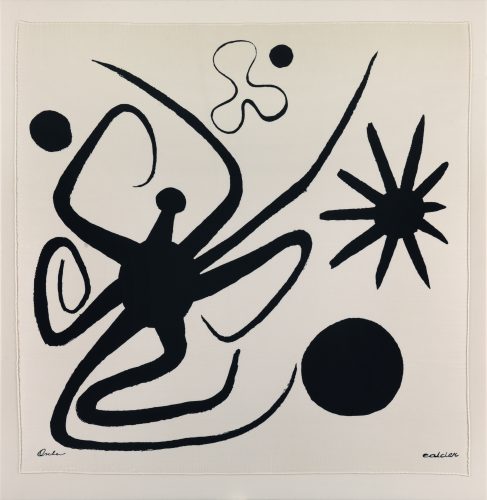 Silk La Mer scarf by Alexander Calder for Zika Ascher
Whitford Fine Art, Stand A3
The judging panel had high praise for this collaboration of fashion and art by one of the most acclaimed artists of the 20th century with studio Asher, which captures the creative spirit of the post-war period. Formerly on display at the V&A, H&A recommends this as a must-see piece of the fair and recommends, if he is available, to talk to the dealer on the stand, who really does bring the piece to life with his knowledge and passion for it.
BEST STAND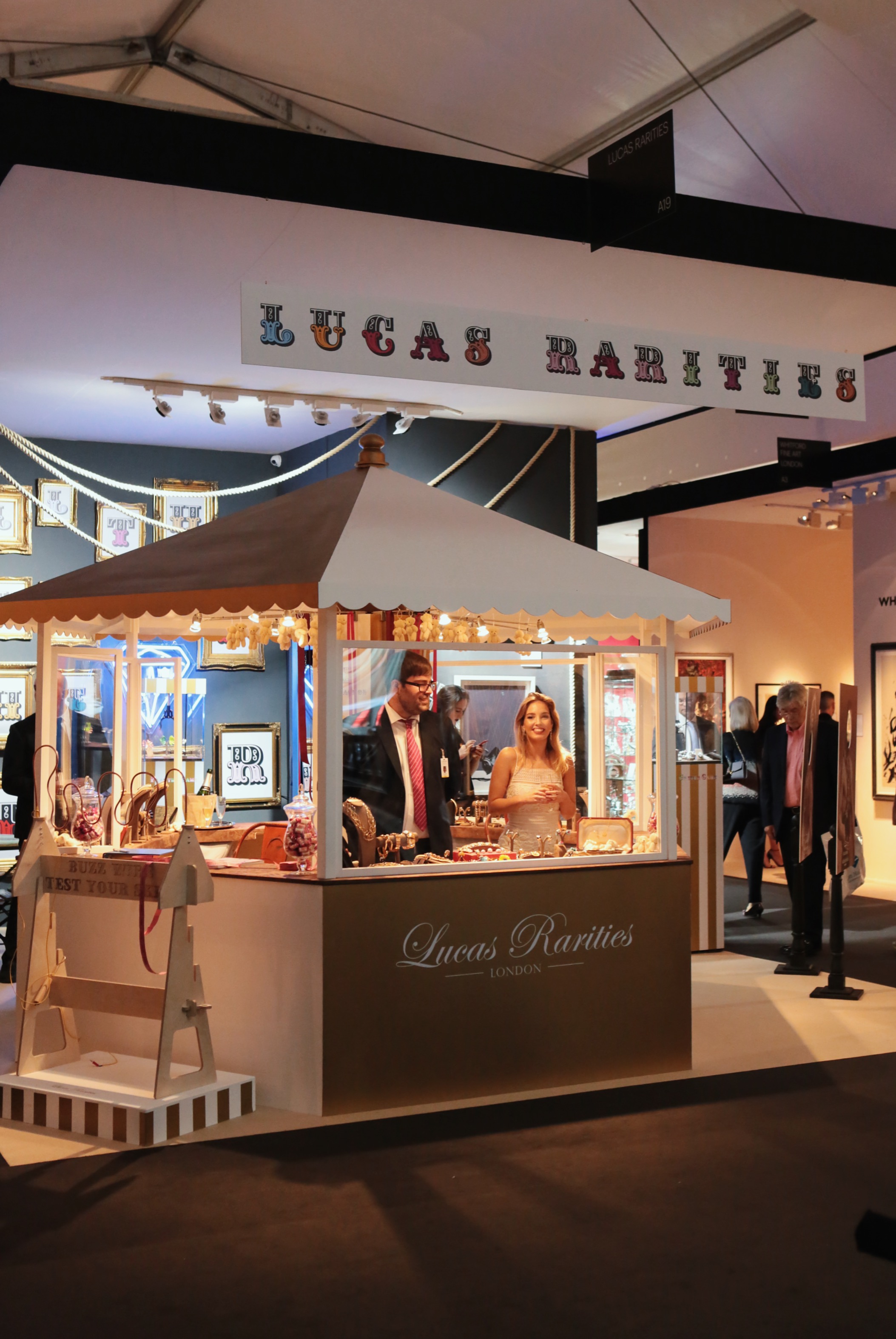 This year's fair saw many innovative designs and clever curations designed to draw visitors to explore the stands of the fair, but the accolade of 'best stand' can only go to one dealer…
Source: https://antiquewolrd.com
Categories: Antique News