I had just spent the weekend in Columbus visiting my girlfriend and arrived at the airport about an hour before my Sunday evening flight home. When booking my flight I used my American Airlines Platinum status to request an upgrade to first class between Columbus, OH (CMH) to Dallas/Fort Worth (DFW). My upgrade had been confirmed around 24 hours before my flight and since the flight distance was 926 miles it only required 2 500 mile upgrades. This was a great use of upgrades since it was short enough to only require 2, but long enough to receive meal service, which meant dinner on my upcoming flight. Needless to say, I was excited to have the upgrade confirmed prior to arriving at the airport.
You might be interested in
John Glenn Columbus International Airport (CMH) is a very convenient smaller airport. It has very easy pick up and drop off lanes so I was able to be out of the car and thru security in a matter of minutes. The airport does have a PreCheck lane but it wasn't fully functional for my evening flight. Even with this minor hiccup, I still had plenty of time to take a look around the terminal.
You are watching: Window Seat Weekends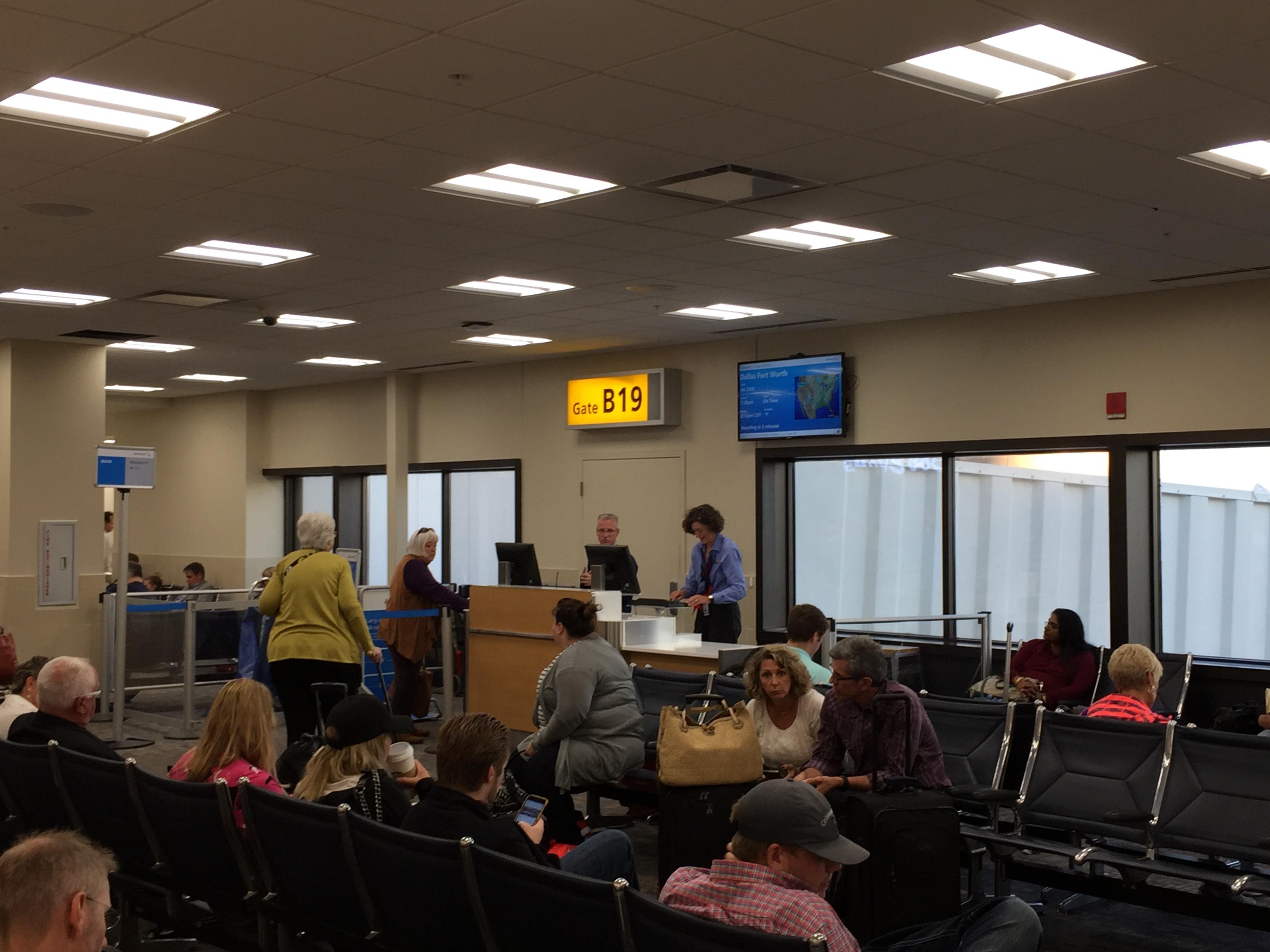 My flight left from gate B19, essentially the first gate after clearing security. So the walk to the gate was fairly easy, to say the least. The gate area seemed decently full but didn't appear to be enough people to completely fill the plane.
Right across from the gate waiting area was a Bob Evans express. It appeared to have a nice selection of food and a cooler with prepackaged items that could be taken on a flight. Then further down the terminal there were more gates and what appeared to be a few more restaurant options, including a bar and grill with flat screen TVs playing the round of Sunday afternoon football games.
I then decided to go over and snap a picture of the plane sitting at the gate. The sun was just starting to set so it made for some excellent photogenic colors in the evening sky.
Read more : Hot KDP Niches: 8 Best Selling Low Content Books on Amazon
Unfortunately, when they announced the boarding for first class I was in the adjoining gate area. This caused me to be one of the last to board in the first class cabin, making it difficult to snap the best picture of the seat. It's something I will have to work on going forward. I was assigned seat 6F for the flight, a window seat. The first class cabin is 4 across in a 2×2 configuration. The seat is plenty large with an adjustable headrest and large arm rest to hold drinks and prevent any battles for that coveted arm rest position.
After settling into my seat I took a look out the window and noticed this Airbus a319 pushing back from the gate to start its taxi to the runway. American has been slowly phasing out their fleet of MD-80s and replacing them with an assortment of Airbus and Boeing jets. This particular a319 happened to be on its way to Phoenix. I think they are great planes for the domestic flights with their in-flight entertainment options, but that review is for another time.
Now back to this flight, as you can see here there is plenty of leg room in the seat. For comparison purposes, I am 6'1. I never once felt squished and found the seat to be very comfortable for the 2 hour and 30 minute flight.
While waiting for everyone to board I decided to pull out Americans patented "American Way" magazine to see if there were any articles of interest and flipped thru a few pages. However, it didn't take very long for the flight attendant to come around taking pre-departure drink requests.
I ordered a glass of ice water before departure. It was served in a plastic cup, with plenty of ice. The person next to me also ordered water so it made things easy on the flight attendant. The rest of the boarding proceeded pretty quickly and soon enough the MD-80 was pushing back from gate B19 and the flight attendants starting going over the safety procedures. Since Columbus is a relatively small airport our taxi to the runway was rather quick. Shortly after the safety briefing ended the roar of the MD-80s twin engines picked up and we were in the air with a smooth take off. I then reclined my seat and enjoyed the view climbing to 35,000 ft.
Read more : Best PlayStation deals: PS5, controllers, headsets on sale
I was able to snap this picture of the sunset shortly after takeoff, the last glimmer of light for the evening.
The flight attendants didn't waste much time starting the in flight service. They took everyone's drink order and then proceeded to hand out warm towels. I ordered a red wine and was shortly delivered a bowl of warm mixed nuts. I then played a round of flick golf on my iPad while waiting for the main course to arrive.
Since I was sitting in seat 6F I was one of the last people to be served their meal. This was only due to the fact that they worked from the first row backward. I ordered the cheese ravioli with red vodka sauce, a wheat roll, salad with peppers, and kept the red wine I had already ordered. The salad was average, nothing to complain about, but just your typical salad with lettuce, peppers and dressing. The ravioli was definitely the best part of the meal. It obviously isn't the same quality you would find at your local Italian restaurant but I was very satisfied with the meal. The ravioli had a good texture, there was plenty of cheese, and the sauce had good flavor. I would definitely order it again if given the option.
After finishing the ravioli they cleared my tray and then immediately refilled my wine glass without me even asking. Shortly after, the cabin started filling up with the scent of chocolate chip cookies. And sure enough, not long after the flight attendant came around with fresh-baked chocolate chip cookies and a mint for anyone who wanted one. I have to say, the cookie was delicious. The fact that it was fresh-baked and still warm really was a nice touch.
After the meal service ended there was about 1 hour left in the flight. Since the MD-80 is one of Americans older planes they do not have any seat back inflight entertainment. However, they do have inflight Wi-Fi with a limit selection of movies that can be watched at no charge. As American continues to phase out their fleet of MD-80s they will continue to bring on more planes with seat back entertainment. The biggest perks of the MD-80s would definitely have to be the fact that they have 16 first class seats, making the possibility of having an upgrade confirmed much higher. Also, in economy it is one of the only domestic airplane options that offers just two seats together for anyone traveling as either a couple, friends, or with a fellow family member. That aspect will surely be missed when they have all been officially retired. But other than these details I am sure most everyone is looking forward to all the shiny new Airbus and Boeing planes American continues to take delivery of.
The remainder of the flight was quite smooth and uneventful. The pilot came on the PA to inform us we had started our decent into the Dallas/Fort Worth area and asked the flight attendants to please prepare the cabin for landing. The flight attendants cleared away everyone's glasses and in no time we were on the ground headed to the gate for an on time arrival.
Final verdict
Overall I was completely satisfied with the flight. After all, I used 2 500 mile upgrades and in return received a comfortable first class seat with meal service. Yes, the plane is old and does not compare to the new planes American is now receiving, but the ratio to first class (16 seats) to economy makes it a great option when going for an upgrade. If anyone is out there looking to pay or redeem miles for a domestic first class flight, I would look for one of the newer Boeing or Airbus models before booking the MD-80. Nonetheless, it is still a very comfortable seat that offers much more room than economy and the service I received on this flight was very attentive. I wouldn't hesitate to request another upgrade on the MD-80. I would like to hear what anyone else thinks about the MD-80 fleet and if they are excited about the upcoming refresh. Until next time!
Source: https://antiquewolrd.com
Categories: Stamps