Creative and delicious Woodland Themed Baby Shower Food ideas that everyone will love! Perfect fit for any budget, large or small! Post contains helpful affiliate links at no extra cost to you.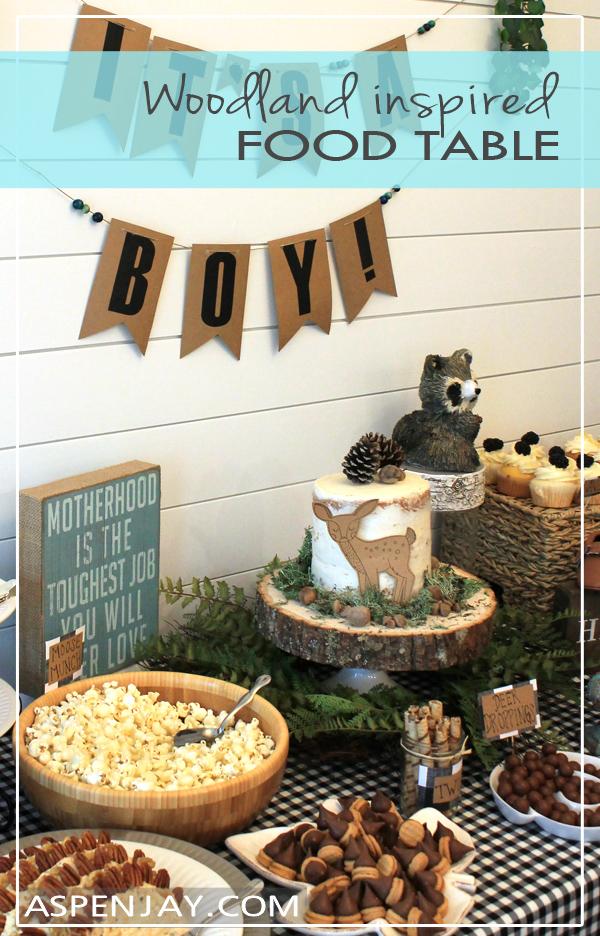 I had the opportunity to help throw a woodland themed shower for a friend expecting her first little boy. You can read about all the activities and decor in the link above. I did help with a lot of the decorating but I can't take any credit for the adorable woodland themed food table… it was all my friend Caden!
She arranged and displayed everything handsomely. The touches of woodsy shrubbery and little forest friends, the treats/food she chose, all the way down to the food labels and banner she made, I loved every single aspect of it! So dang cute!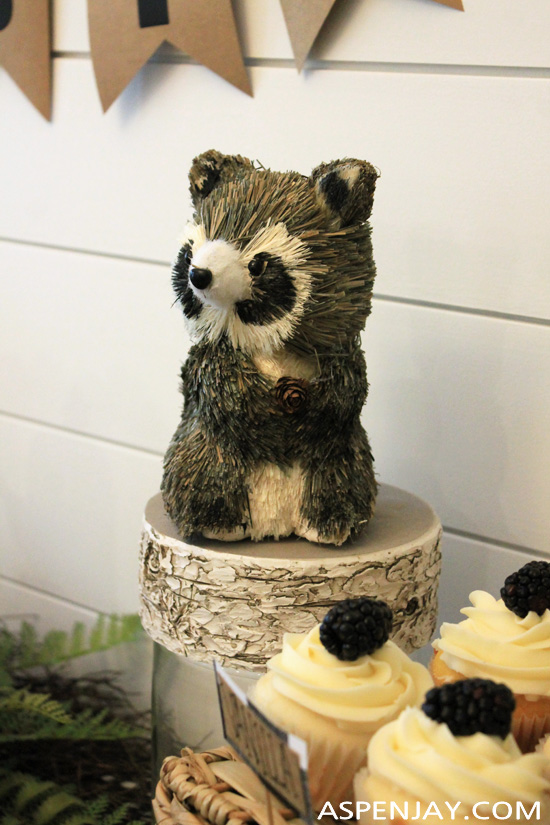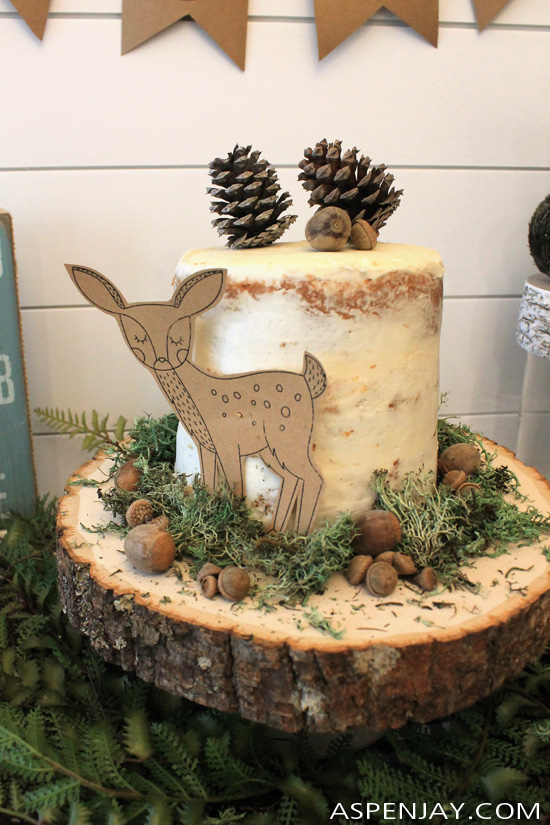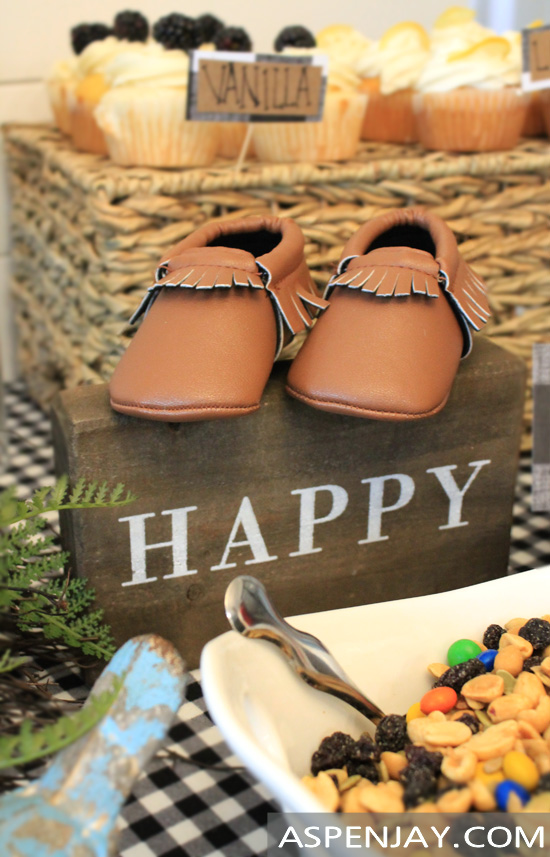 Those baby moccasins are so tiny and adorable!
Woodland Themed Baby Shower Menu
Let's just start off by saying you can go CRAZY with food ideas for a woodland themed party! There are just so many possibilities and your imagination is the only limit!
We served a variety of creative, delicious munchies that were spot on with our theme. It helped that the baby shower was in between breakfast and lunch so there wasn't a need for a set menu but rather a few sweet and savory goodies.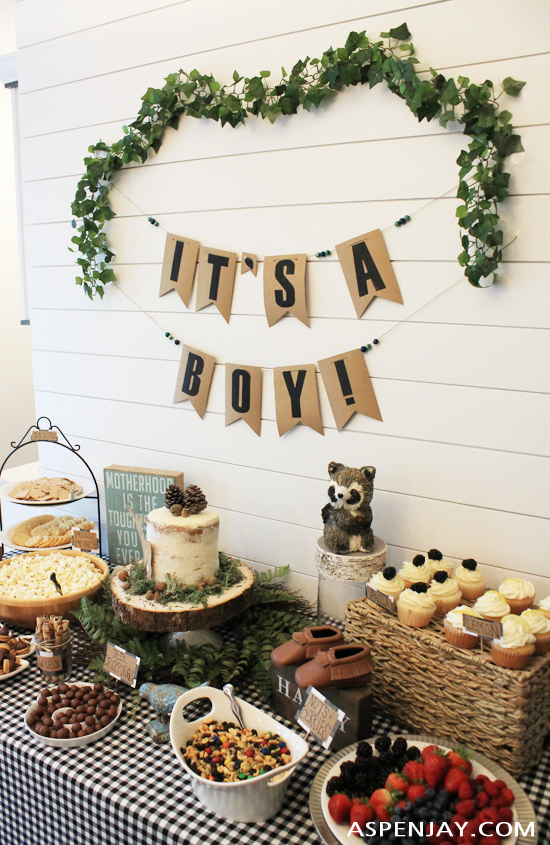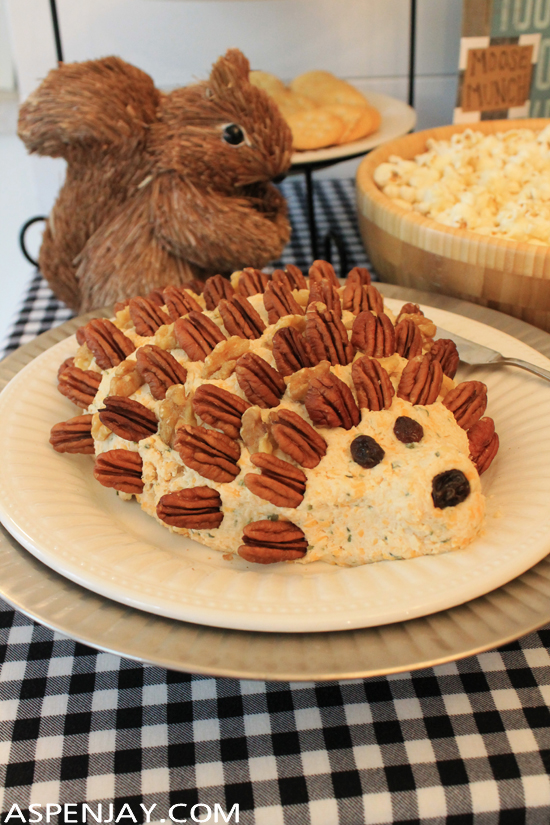 HEDGEHOG
Can we please stop and talk about how cute this cheeseball hedgehog is?! I mean, how adorable is he!
And not too complicated to make either. Any cheeseball recipe will do then form the cheese ball into an oval with a point. Top with a few pecans and walnuts (halved almonds work too!), and finish him off with three raisins for the eyes and mouth.
So darling! It was such a pity the poor thing lost it's head rather quickly and most of it's body because it was so delicious!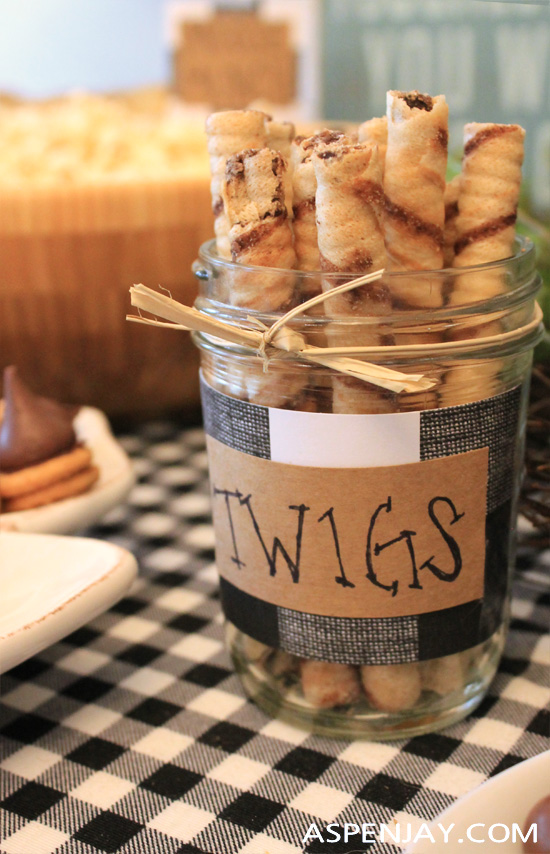 TWIGS
People will definitely be snapping a twig or two while walking in this forest, especially if they have chocolate in them! Pirouline Wafers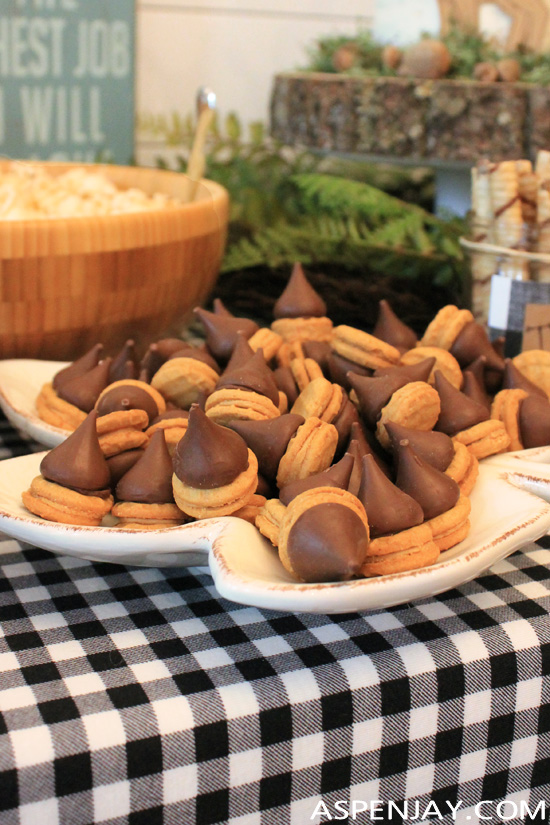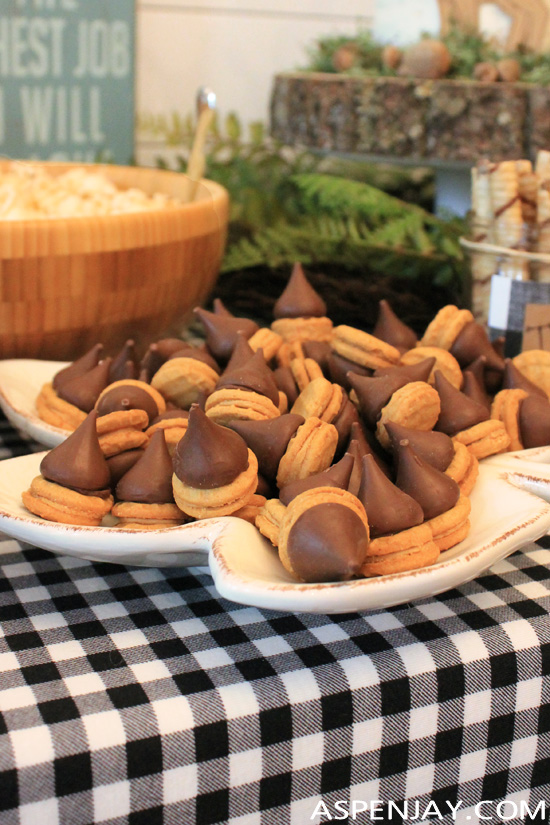 were used for the "twigs".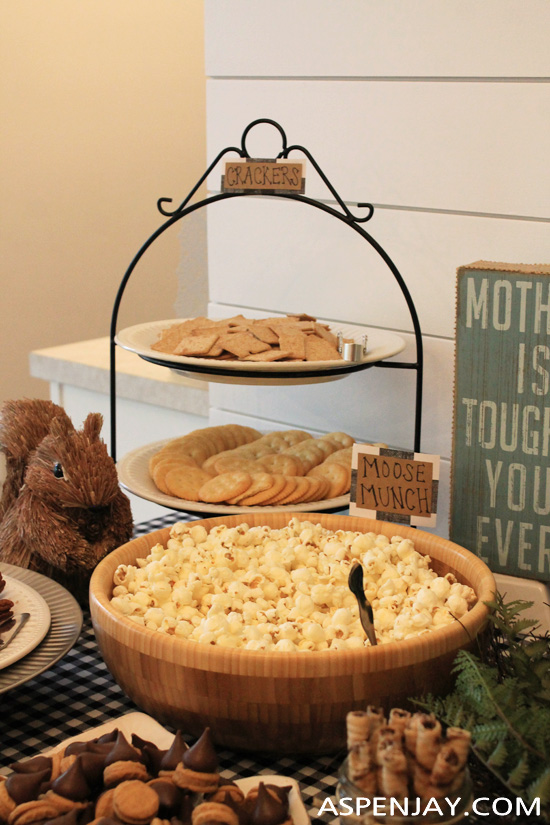 ACORNS
These "acorns" are merely Hershey Kisses and Mini Nutter Butters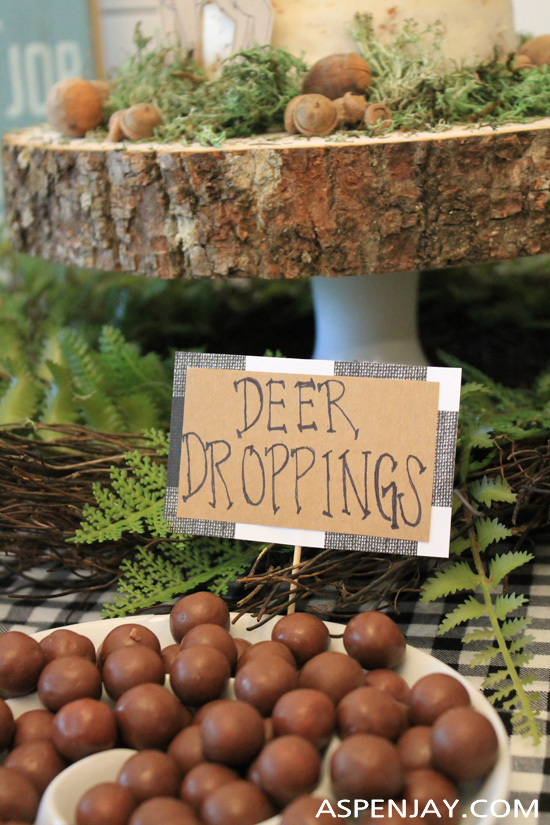 with a tad bit of chocolate frosting to stick them together. Super easy to assemble and so on point with the forest theme!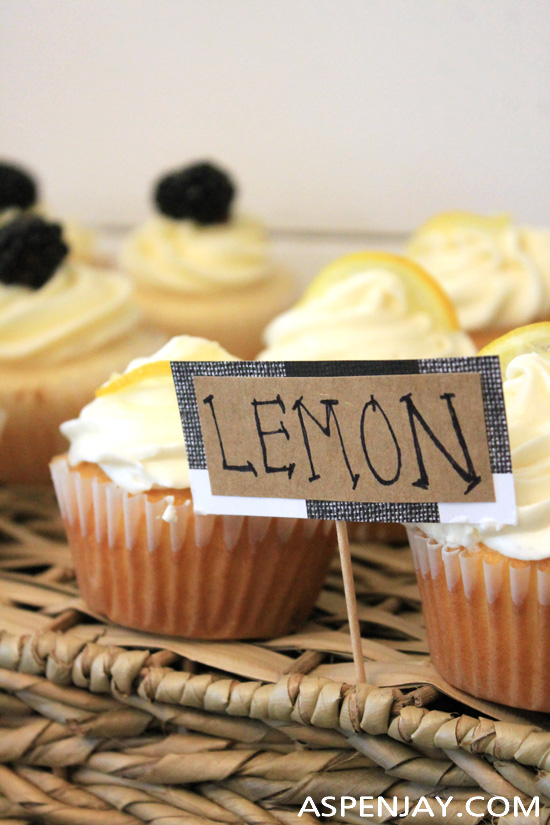 TRAIL MIX
What better thing to munch on while walking in the forest than trail mix! Buy a prepared mix or make your own by combining any of the following: raisins, variety of nuts (like almonds, cashews, peanuts), m&ms, dried fruit (cranberries, apricots, coconut), pretzels, seeds, chocolate covered nuts/candies, marshmallows, and anything else you are hankering for!
You can always add a few 'bears' (teddy grahams or gummy bears) and 'twigs' (pretzel sticks) to create the perfect woodland trail mix!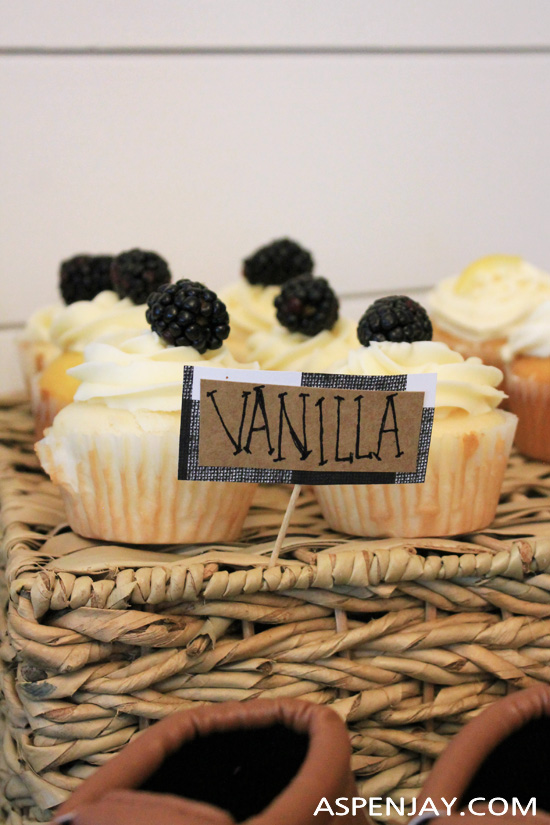 MOOSE MUNCH
Slap a label to some popcorn (this is my favorite!)- BAM, "moose munch". I'm not exactly sure what moose eat… but popcorn is always good right?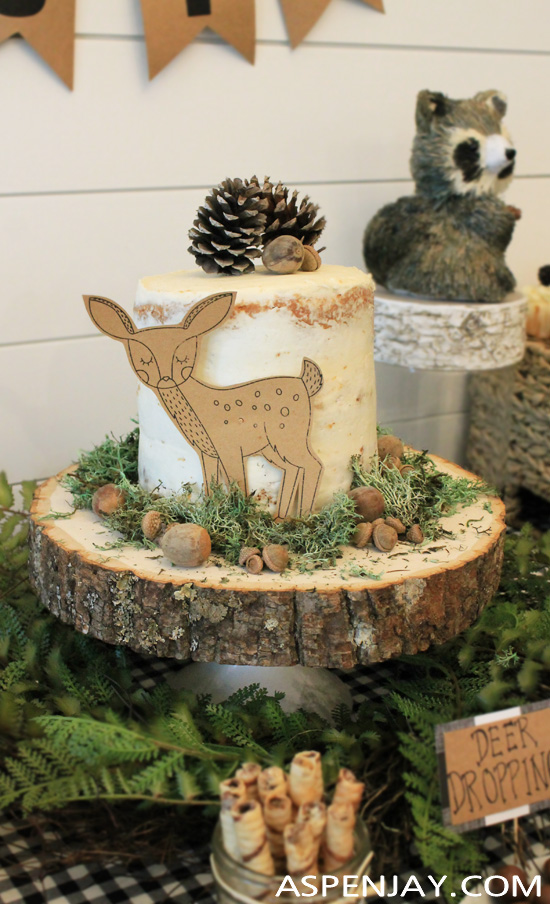 FOREST BERRIES
It's always a treat when you find some tasty forest berries! The colorful array of blackberries, strawberries, blueberries, and raspberries was definitely a fan favorite.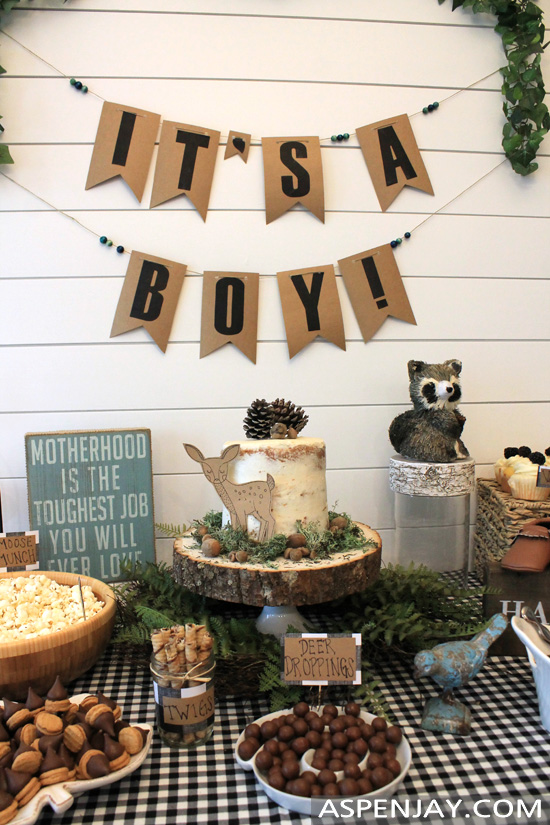 DEER DROPPINGS
Read more : Postal Bulletin 2017 Annual Index
Chocolate covered candies in a dish aren't all that impressive. But create a fancy sign for them and label it "deer droppings" and you have taken that chocolate to a whole new level of fun!
CUPCAKES
Every party needs a treat and these fruit topped cupcakes were just the thing to satisfy every sweet tooth! The cupcakes were displayed on a wicker basket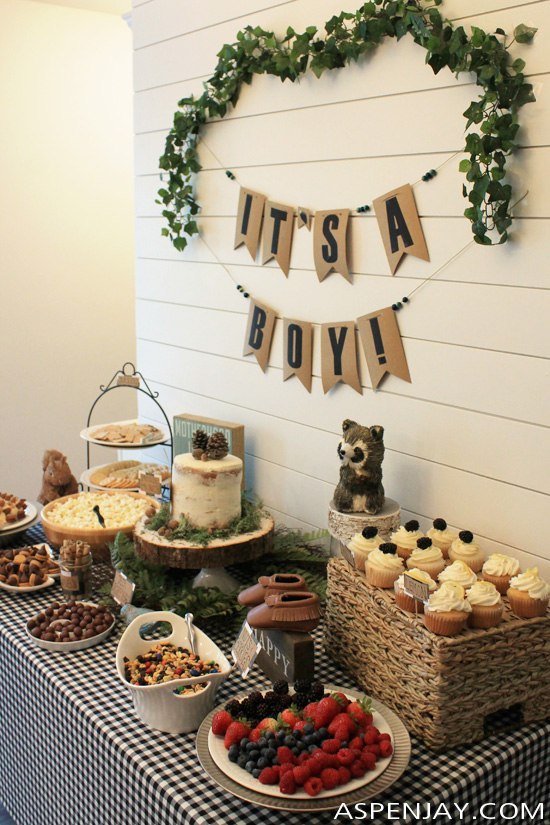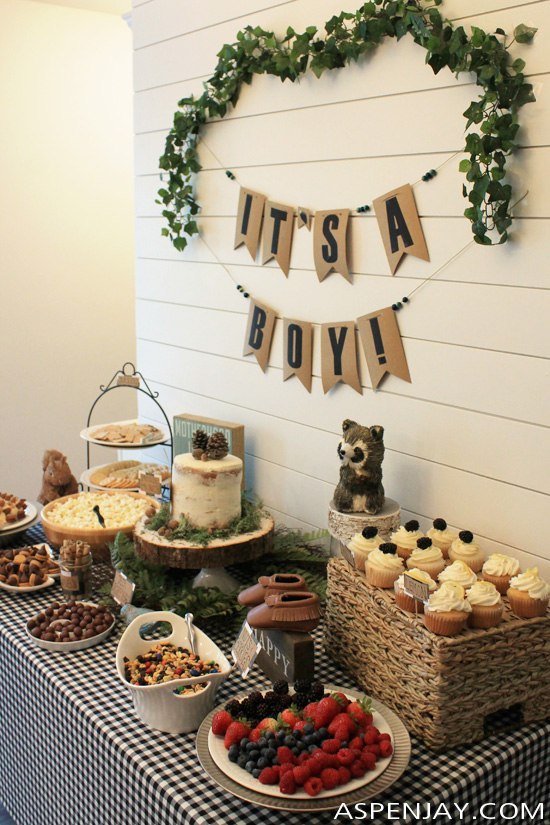 which brought some great texture to the table and it also added a fun picnic feel.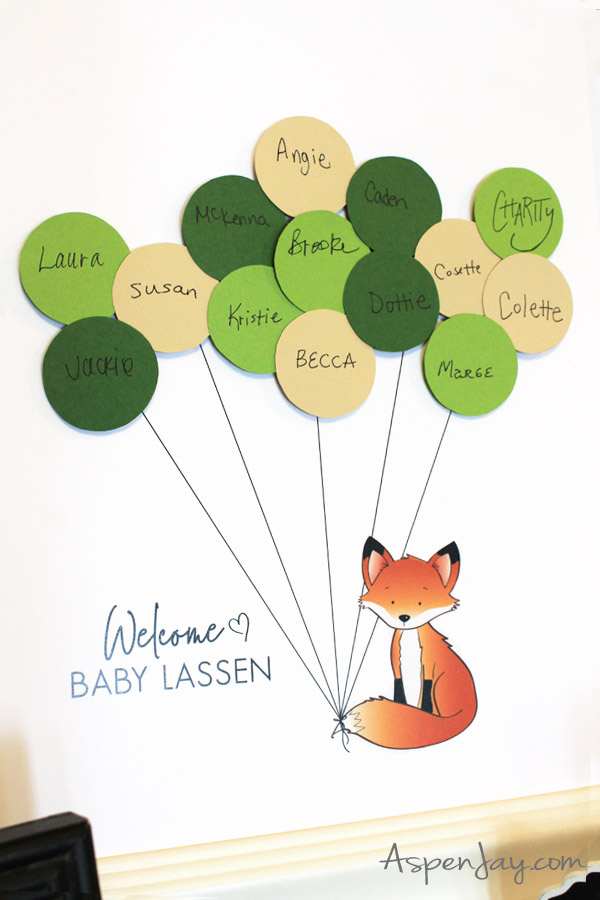 WOODLAND THEMED INSPIRED CAKE
And always the crowning piece, the cake!
If you are not a cake decorator, this is right down your alley! All it is is a white box cake with white frosting with that "naked cake" feel. Then dressed up with a bit of moss, acorns, and pinecones and displayed on a wood slice cake stand (which is just a thick wood slice she place on top of a white cake stand). Super simple and yet absolutely perfect!
It is actually the same type of cake she made for the Floral Baby Shower. I love how versatile it is!
DRINKS
Water was dressed up with these fox water bottle labels. Originally we had all discussed serving "pond juice" to go with the theme. You may have seen "pond juice" floating around on Pinterest if you have been searching through woodland parties. It's just a light green punch.
Anyways when going over details, I asked Caden if she wanted to use my drink dispenser. She said no because she was just serving water. She added that she didn't want any "pond juice" spilt on her floors. I don't say I blame her!
And just a helpful hint with the water bottle labels, since I did print the labels on paper, there is the risk of them getting wet and then peeling off. So I used scotch tape to go around the label. Result? Waterproofed labels. 🙂
And there you have it! Our Woodland themed Baby Shower food spread! I hoped you loved these ideas… probably not as much as we enjoyed the food though! 😉
What are some awesome woodland party food that you want to create?
Did you find this post helpful? Then save THIS PIN to your Baby Shower board for later!
How about an alternative guest sign in at your party? Download this cute fox guest book for free!
Hosting a baby shower? Grab this Woodland 8 games pack in the shop!
Source: https://antiquewolrd.com
Categories: Stamps