The Penny Red Stamps guide
Penny Red stamps were the main type of postage payment in the UK for almost 40 years – and they remain a much-loved part of British postal history.
You might be interested in
First printed in February 1841, its distinct brownish-red colour earned notoriety when replacing the Penny Black, just nine months after it had been issued.
Around 21 billion Penny Reds were produced by Perkins, Bacon & Co until the stamp's usage came to an end in 1879.
Most of these stamps are not worth more than a few pounds at most.
But that doesn't stop collectors from wanting to find out more about its intriguing philatelic history.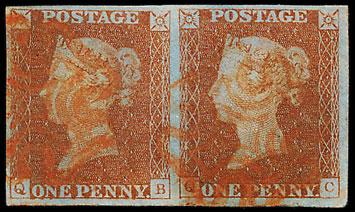 The Penny Red Stamp's history & changes
The Penny Red only replaced the Penny Black stamp for one reason – its colour.
Where the red cancellation mark was difficult to see on a Penny Black, the black cancel was harder still and the brownish-red colour of the Penny Red meant that the black cancel mark was easily visible.
This change in the cancellation colour also meant that thrifty Victorians could no longer try to 'wash' the red postmark from the black stamps.
During its 38-year lifespan, the Penny Red stamp followed on from the Penny Black, having a watermark for security purposes.
To identify its position on the plate, each stamp had unique corner letters AA, AB, AC, AD etc. The Penny red stamp covered the price of a standard UK letter and went through a number of minor design changes.
Three distinct types of Penny Reds were issued:
The Penny Red imperforates: Produced from 1841 until 1854, initially using just 7 out of the 11 printing plates used to produce Penny Blacks, a further 164 plates were then used. It had to be cut from a stamp sheet using scissors. As they started using the existing printing plates, these
stamps were effectively Penny Blacks but printed in a new red ink. Plates 132 to 175 can be distinguished by specialists as they have an altered type of alphabet (Alphabet II) in the lower corners.
The Perforated Penny Red Stars: Experiments started to see if the sheets of stamps could be perforated, to speed up the Post Office clerks and to stop the need to use scissors to separate the stamps. Collectors refer to these as 'Archer' perfs after Henry Archer who started the trials. From 1850, an experimental 16-gauge perforated version entered production. The basic design remained the same. Perforated stamps were officially adopted by the Post Office in 1854 with perf gauge 16 and later perf 14. The watermark can be either a large or small crown. The large crown with perf 16 being the scarcer.
The perforated Penny Red Plates: In 1858, work was started on a redesigned Penny Red. Various design changes were made including the use of letters instead of stars in the upper corner. Small plate numbers were also to be hidden between interlocking lines at each side.
When the final version of the Penny Red Plates was issued on 1 April 1864, the plate number was engraved in the design, featuring in the lace work at the left and right side. The top corner stars were also replaced so that they showed the same check letters used in the lower corners, but in reverse order.
To prevent the sheets from easily coming apart, 14 perforations were used instead of 16. Each stamp was produced from printing plates numbered between 71 to 225 and had the large crown watermark.
Each stamp sheet was made up of 20 rows of 12 stamps (240 in total), meaning each row cost 1 shilling and each sheet cost 1 pound. This stamp sheet configuration remained in place for all British postage stamps until the decimalisation of UK currency in 1971, when sheets were reduced to 200 in size.
How Penny Red plate numbers affect value
Read more : 66 is what percent of 50
More than 400 different plates were used to print the various Penny Reds and many were repaired or renovated before being used again. As a result, a wide range of Penny Reds exist in various states.
As outlined above, the first Penny Reds on sale on 10 February 1841 were printed from plates previously used to produce the Penny Black.
If you own a 'matched pair' of Penny Blacks and Penny Reds, issued from the same plate with the same corner letters, these 'black plate' stamps are much sought after by stamp collectors.
Whenever a new plate was introduced, Somerset House would receive an 'imprimatur' sheet to approve for use. Imprimatur sheet Penny Reds are extremely rare and desirable, with some known to be owned by private collectors.
What is a Plate 77 Penny Red?
Penny Red plate numbers are important. The rarest plate to be used is number 77, from which it is believed that only one sheet of stamps was printed.
According to Post Office records, printing plate 77 – which dates from 1863 – was rejected due to poor alignment which meant that some stamps were mis perforated in production.
Although the only sheet printed by plate 77 was meant to be destroyed, a few examples have been unearthed by collectors during the last century.
The most recent example to be sold from this plate fetched £495,000 when it was successfully auctioned in March 2016 – making it the UK's second most valuable stamp.
Bought by unnamed British collector, the Guardian newspaper reported that this rare Plate 77 Penny Red (pictured below) is one of only five used examples known to philatelists, but there are more likely 10 -12 perhaps.
For stamp collectors and investors, Plate 77 Penny Reds are the holy grail of philately because they were not meant to exist.
Identifying a Penny Red stamps value
The harsh reality is that you're extremely unlikely to discover a rare Penny Red that's of any significant value.
That doesn't stop new stamp collectors contacting us – because they remain convinced that they have!
Usually, they've misread the plate number because the cancellation ink is obscuring the numbers or the stamp has been obliterated by a black postmark. That's why identifying the plate number on a Penny Red has to be done carefully.
As is the case with all stamps; condition, appearance, errors and rarity are the biggest influence on value – as outlined in more detail in our Stamp Grading and Condition guide.
How much are Penny Reds worth?
With more than 21 billion Penny Reds produced and used, the truth is that they are NOT rare – and usually NOT very valuable.
If you own an imperforate Penny Red stamp in good condition, expect it to be worth between 50p to £5. Perhaps slightly more if it has four fine margins, but much less if they're poor.
As a general rule of thumb, Penny Reds cancelled with a Maltese Cross are usually worth more than those featuring a numeral cancellation.
Depending on its quality, watermark and perforation, a Penny Red Stars' value is probably somewhere between 30p and £10, but the more valuable ones are scarce.
Read more : How many stamps do I need? And where to buy?
Penny Red Plates, which have been known to turn up in boxes by their thousand, are worth even less – and not much more than 10p to 30p. Some mint stamps have survived and are worth more.
Incredibly rare Penny Reds worth a fortune
Of course, there are several exceptions to the 'Penny Reds are not worth a lot' rule.
Plate 77 PI: Unearthed in 1920 by a Manchester stamp dealer, this used example on piece with a four-penny stamp was auctioned for £900 by Robson Lowe in 1959. Since then, it has passed through the collections of Hassan Shaida and Pichai Buranasombati, before being sold to a person living in Australia for £550,000 in 2012 – a record for a British stamp, which remains in private hands (pictured below left).
Plate 77 IM: In March 2016, another Penny Red entered the record books as the UK's second most valuable stamp after being sold to an unnamed British collector for £495,000.
Plate 77 PH: Acquired by stamp collector H G Fletcher in 1956, it was first discovered in 1924, and is now owned by The British Library after being bequeathed to a museum by Fletcher in 1989.
Plate 77 LL: Sold for £375 in 1966 after passing through several collector's hands, this stamp – which is heavily cancelled by an obliterator postmark – is now in a private collection. First discovered by a philatelist in 1906, it has not been seen since 1974.
Plate 77 AC: Bought by Major Raphael from a Robson Lowe auction in 1959, his collection was sadly stolen in 1965 and it has never been seen again.
Plate 77 MI: Discovered in 1944 by Percy Jackson whilst sorting through a box of Penny Reds at his Ropley home in Hampshire, the stamp was sent to the Royal Philatelic Society of London (RPSL) for a certificate of authenticity before being sold for £220 at a Robson Lowe auction. It has never appeared at auction since.
Plate 77 AB: This stamp is still in the Royal Collection after being acquired by King George V in 1919.
Plate 77 AA: Sadly destroyed in a fire, after the San Francisco earthquake of 1906, it had previously been in the collection of Henry J Crocker, one of the founding 'Fathers of Philately'.
Plate 77 BA: Part of the Thomas Tapling Collection, this stamp was bequeathed to the British Museum in 1891 and is now held in The British Library.
The lasting legacy of Penny Reds
Despite its era coming to an end along with the Perkins Bacon contract in 1879, the Penny Red is still highly sought after by both young and experienced collectors.
It may not be the most visually-inspiring stamp, and is often referred to as the Poor Man's Penny Black, but there's still a lot to love about Penny Reds.
Compared to the elusive Penny Black, it's far easier – and cheaper – to build up a substantial collection of Reds. A fine single usually costs a fraction of its Penny Black equivalent, making it within financial reach for most hobbyists.
Although acquiring them is never going to work as an investment, the Penny Red certainly offers an intriguing way to collect that's suitable for every budget.
And the lure of finding a rare Plate 77 Penny Red will, hopefully, ensure that the next generation of collectors remain inspired for years to come.
If you've inherited or acquired any rare stamps, please get in touch for a FREE and accurate stamp valuation – our experts will be happy to help.
Learn more about philately – read our Beginner's Guide to Stamp Collecting!
Back to Guides
Source: https://antiquewolrd.com
Categories: Stamps