The GroceryShop 2021 show is now history, and this year's event was the first in-person show for the U.S. grocery market produced by the Hyve Group. I attended the show at the Mandalay Bay Hotel in Las Vegas this week to catch up with all of the automation vendors in attendance and to see how the event came together.
You might be interested in
I have been to GroceryShop in past years, and the event this year was smaller than years past, by at least 50% (in my estimation). But, the GroceryShop crew puts on one of the best produced tradeshows of any B2B markets that I've attended. The sister event, ShopTalk, is an annual event that focuses on technology and innovation for every type of e-commerce business, while GroceryShop focuses exclusively on the grocery market.
GroceryShop is known for high-quality speakers and content, and this year didn't disappoint. They are able to attract keynote speakers from the executive levels of brand name grocers. The presentations are well curated and the session tracks are always packed.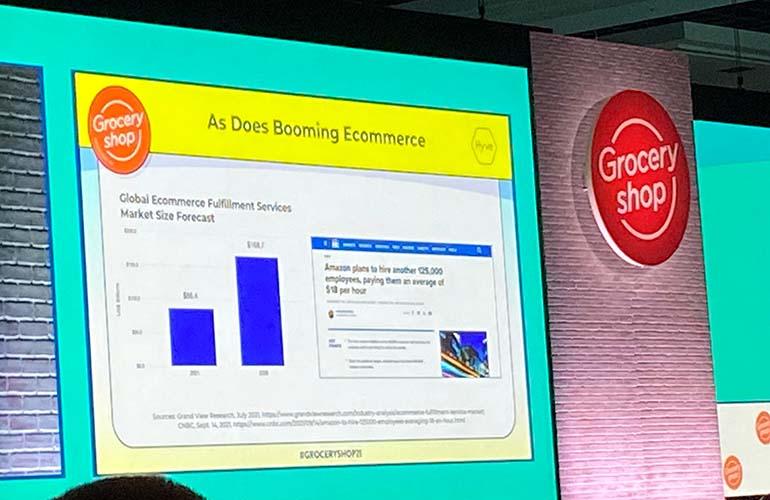 In fact, the sessions are so well attended that most of the exhibitors complain that booth traffic is anemic during session hours and only picks up during lunch and networking hours. It's a double-edged sword. The event attracts the right audience, but they spend all of their time in the sessions.
GroceryShop innovated several years ago with their "vendor speed dating" sessions. This feature enables vendors to buy a "table, and then preschedule 1:1 briefings with attendees/buyers in 15-minute rotations. This is an easy way to quickly triage a buyer and see if they have a budget/project and qualify them. Conversely, buyers get to hear a quick solution pitch without the fear of being stuck in a booth for an extended period of time and without having to rush between booths. It essentially breaks down the classic tradeshow barrier of trying to stop someone walking down the aisle. Vendors know exactly who they are talking to before the show starts.
Read more : Where to Sell Old Stamps for Cash Near me?
As a journalist, however, I was able to walk the show floor and have unimpeded time to talk to the leadership of the various vendors in attendance. I would estimate that the exhibition floor was at least 40-50% the size of prior years. But this year, there were a number of automation providers in attendance.
Here's the list of companies that I talked to this week:
AutoStore
Attabotics
Alert Innovation
Bastian Solutions
Dematic
Hai Robotics
KPI integration (AutoStore integration partner)
Knapp and Takeoff Technologies
RightHand Robotics
SSI Schaefer
Swisslog
Tompkins Robotics
Vici Robotics
The one other innovation that GroceryShop does really well is its "Startup Street" and "Startup City" pavilions. In a prior life, I attended GroceryShop as a vendor in the Startup Street. This is a simple tabletop booth that's curated by the GroceryShop team. These are new technology companies that have only recently launched their company/solution.
It was on StartUp Street that I discovered San Jose-based startup, Vici Robotics. I talked with founder and CEO Kyle Smith about the company. It's developing a front-of-store inventory replenishment mobile manipulator that will be able to stock items on the shelf. The robot has a 7-axis collaborative robot mounted onto a vertical axis. This enables it to reach from the bottom to the top shelf of a normal grocery store. The company plans to sell it in a RaaS business model.
Source: https://antiquewolrd.com
Categories: Stamps