Ben Thanh Market, Yersin Market, and Binh Tay Market are names of some of the most popular markets in Saigon. But among those and the many others, the Collectors Market is most unique. Here's why:
You might be interested in
General Information About The Collectors Market
Name: Cho Ve Chai – The Scraps Market – The Antiques Market – The Collectors Market.
Address: Cao Minh Cafe, 311/27 No Trang Long Street, Ward 13, Binh Thanh District, HCMC.
Opening time: Every Sunday morning, from 6 AM to 2 PM
Most common commodities: Antiques, including ceramics, military shoes, soldier's helmets, tobacco pipes, ashtrays, oil lamps, zippo lighters, calculators, telephones, pendulum clocks, typewriters, jewelry, scarves, statues.
Visitors: Collectors, locals, and foreigners – those passionate about antiques.
Origin of the goods at the market: Vietnam, China, America.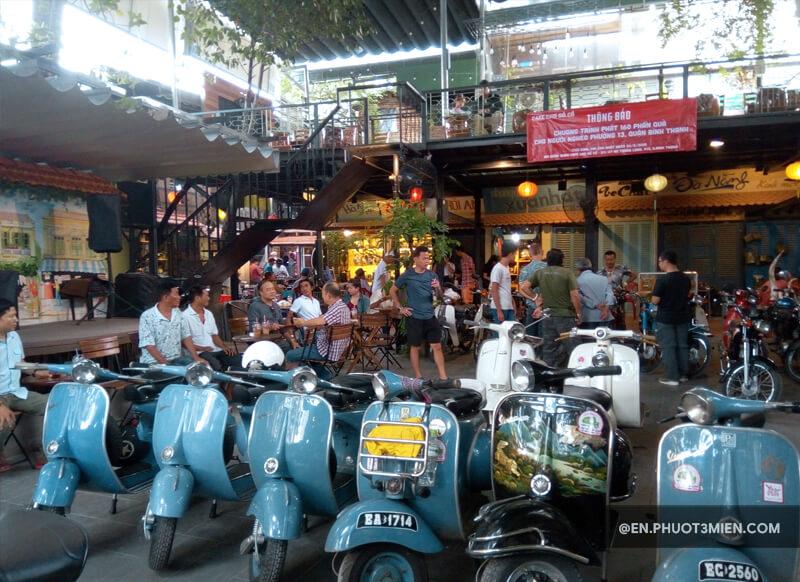 A First Look at The Collectors Market
This open space market occupies an area of 500-square meters outside Cao Minh Cafe at No Trang Long street. Every Sunday morning, hundreds of people flock to the market in search of bargains. Not all of them intend to participate in any exchange though – some are there to merely look as they are passionate about antiques.
You are watching: The Comprehensive Guide to The Collectors Market
The market opens every Sunday morning, from 6 AM to 2 PM, and charges each person an entry fee of 30,000 VND (~ 1.5 USD) and this applies whether you are a collector, a seller, or just a window-shopper. This fee includes one drink or one meal. After a morning of wandering around, a hearty meal for breakfast or a cup of black coffee would help to restore your energy.
How Can I Get to The Collectors Market?
The collectors market is situated in the space of Cao Minh Cafe, at 255/47Bis No Trang Long Street, Ward 13, Binh Thanh District. This place is about 7km away from Ben Thanh Market – a one-way trip from the city center usually takes 30 minutes by motorbike and 40 minutes by taxi or bus. So walking is obviously not a wise choice.
By Motorbike
In times of heavy traffic , exploring off the beaten track sites in the city by bike seems to be the best option. You can book a Grab bike or an Uber moto for only 30,000 VND from Ben Thanh Market (~ 1.5 USD), or you can rent a motorbike on Bui Vien Street for 200,000 VND per day (~ 10 USD).
Because the addresses in this area do not follow any particular order, it would be a real challenge to find this place, especially for newcomers. One tip is to look for the first alley on the left after passing Bang Ki Bridge. In the alley, just follow the crowd and they will lead you right to the market.
By Taxi
A trip from Ben Thanh to Cao Minh Cafe costs approximately 80.000 VND (~ 4 USD) for Grab/Uber, and about 110.000 VND (~ 5 USD) for regular taxis (remember to catch Mai Linh or Vinasun only).
By Bus
You can get on the bus #31 at Ben Thanh bus station and get off at "Truong Trung Cap Xay Dung" station on No Trang Long Street. Then walk back around 50 meters, you will see the alley marked 255.
Or you can follow the instruction from Busmap.vn: https://busmap.vn/en/
What Can I Find at The Collectors Market?
Read more : Stratford-upon-Avon Mop Fair 2022
For those who do not have a good knowledge about antiques, items on sale here seem to be unusable and valueless. However, the prices of these items can reach up to a thousand dollars depending on their rarity and importance.
For instance, an exquisitely carved Zippo lighter can be priced at up to a thousand dollars each, and old motorbikes produced by well-known brands like Mobylette, Vespa, and Lambretta during the 1940-60s can also cost over a thousand dollars. Kitchenware sets made from silver or inlaid with gold can sell for as much as 4,000 dollars per set.
Here are kinds of goods commonly sold at the Collectors Market:
Lighters
It can be said that old lighters are the most common items traded at this flea market. Old, simply designed lighters averagely cost 50.000 VND each (~ 2 USD), while exquisitely carved Zippo lighters can cost up to 20.000.000 VND each (~ 1000 USD).
Watches & Clocks
There are multiple types of old clocks displayed at the market, from colorful wearable watches to shiny chrome plated timepieces.
Ceramics
Ceramics available here include old dishes, cups, and bowls preserved over decades. Some of them are said to originate from Vietnamese feudal dynasty.
Military surplus
Shoes, soldier's helmets, tobacco pipes, ashtrays, etc., many items related to the Vietnam War are displayed at the market.
Jewelry
Read more : Scoring Fine English Antiques
Besides pieces of jewelry made of common materials like metal and fabric, there are also bracelets, rings made of gemstone and pearls, which are believed to bring luck to its owner.
Machineries
There is a wide range of old machines at the market, such as calculators, telephones, typewriters, gramophones, cameras, etc. However, remember to check with the seller whether the product is usable or not.
Old money
Old money circulated in Vietnam and other countries around the world can also be found at Cho Ve Chai.
Statues
If you intend to purchase an item holding religious significance, then statues with mysterious stories would be the perfect option. Divine statues made of pottery or metal are popular goods you can find here.
Old Books
There are also some stalls selling old books published in the past.
Advice from The Writer
Breakfast is served between 7 a.m. and 9 a.m., while lunch is served from 12 p.m. to 2 p.m., other than that, you may only order drinks.
Ask the seller whether the product is usable or not if you want to buy an electronic item like a camera or a CD player.
Although items here are generally appropriately priced, don't forget to do some research or ask around before you purchase. You can also try bargaining a little bit in case you think the price is higher than what you expect.
Should I Go There? Yes!
Pros
An experience that is unlike any other in Saigon;
A trustworthy place to find an antique;
An ideal atmosphere to refresh and to know more about the history in the weekend.
Cons
The location is hard-to-find and practically far from the city center;
The place is sometimes over-crowded.
This flea market is where you can have a quick glimpse of old home utensils used in the past while sipping a cup of coffee as you listen to the melodious music floating around while watching antique enthusiasts browse around. For both Saigon newcomers and local residents, this place will definitely be a whole new refreshing experience. Make sure you visit and let us know in the comments below what you make of it.
More interesting markets in Saigon: Tan Dinh Market, Ben Thanh Market, Yersin Market, Ho Thi Ky Flower Market.
If you enjoyed this article, follow Travel blog Phuot3mien for more fun info on what to do, see and eat while in Vietnam!
Source: https://antiquewolrd.com
Categories: Antique News