Whether you're an avid stamp collector or just looking to jazz up your cards and letters this year, the new 2024 U.S. Postal Service stamp designs are a worthy addition to your stationery collection.
You might be interested in
The U.S. Postal Service revealed dozens of stamp designs for 2024 on Oct. 23, including holiday symbols, notable figures, seasonal scenes, nods to American history, fun sayings and plenty of animals.
You are watching: Sneak peek at recently revealed 2024 postage stamp designs, more designs to come soon
"As always, our stamp program features a broad array of subjects and designs. Stamps are miniature works of art and often tell a story that highlights our American culture, our people or an important point in our history," said Lisa Bobb-Semple, acting Stamp Services director for the U.S. Postal Service. "Stamps also allow us to show what's important to us as we carefully select which stamp adorns our mail pieces."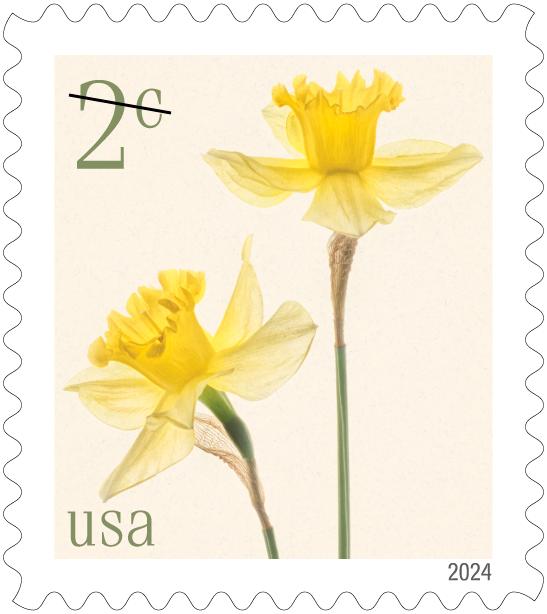 And if you're already considering which stamp designs you need to get your hands on, the postage fun has only just begun. More 2024 stamp designs will be revealed in the coming weeks and months, according to the Postal Service.
Whomever you're sending mail to, and for whichever occasion, here's a sneak peek at the flashy ways you can spruce up your envelopes next year:
Lunar New Year
As the Year of the Dragon commences on Feb. 10, 2024, this Lunar New Year stamp design celebrates the occasion with a colorful, three-dimensional portrait of a dragon.
This is the fifth of 12 stamps in the Postal Service's Lunar New Year stamp series and is reminiscent of the elaborately decorated masks often used in dances performed in parades for the holiday. The stamp is a contemporary spin on the tradition of paper-cut folk art crafts created during the Lunar New Year, with symbolic colors and patterns incorporated throughout.
The stamp was designed by Antonio Alcalá, an art director for the Postal Service, with original art by Camille Chew.
Constance Baker Motley
This design is the 47th stamp in the Black Heritage series and honors Constance Baker Motley (1921-2005), the first Black woman known to have argued a case before the U.S. Supreme Court and the first to serve as a federal judge.
The stamp features a portrait of Motley wearing a black dress and was created by Charly Palmer using stenciled circular shapes, heavy brushstrokes and scratches to add texture to the acrylic-on-canvas work.
Derry Noyes, an art director for the Postal Service, designed the stamp.
Protect sea turtles
Sea turtles are among the oldest groups of animals on the planet. These 18 stamps include close-up photographs of six species — the loggerhead, leatherback, hawksbill, Kemp's ridley, olive ridley and green sea turtle.
All six turtles featured are protected by the Endangered Species Act.
Read more : Shipping From The USA To UAE (GUIDE) ??
The stamps encourage the protection of sea turtles, one of the oldest groups of animals on Earth, and were designed by Derry Noyes.
Pillars of Creation (Priority Mail)
This stamp depicts an extremely high-definition infrared image, captured by the James Webb Space Telescope, of the Pillars of Creation formation within the Eagle Nebula. The digitized image was created by assigning color to various wavelengths.
The stamp was designed by Greg Breeding, an art director for the Postal Service, with an image provided by NASA, the European Space Agency, the Canadian Space Agency and the Space Telescope Science Insititute.
Low Denomination Flowers
This series of low denomination stamps features a different flower design for five values, including a 1-cent fringed tulip, 2-cent daffodils, 3-cent peonies, 5-cent red tulips and 10-cent poppies and coneflowers.
The design was created by photographer Harold Davis from a mix of digital painting and photographic techniques. Ethen Kessler, an art director for the Postal Service, designed the stamps.
Save Manatees
The Save Manatees stamp aims to raise awareness about the threats faced by manatees, including motorboat strikes and impacted food sources.
The image is a digital rendering of a manatee lolling near the surface of the water, made using illustrator Nancy Stahl's original graphic design and designed by Derry Noyes.
Underground Railroad
The Underground Railroad stamp collection commemorates the Underground Railroad and historical figures who aided the escape of enslaved people in America.
The set features 10 sepia-toned portraits of men and women who escaped slavery and/or helped others escape, including Catharine Coffin, Frederick Douglass, Thomas Garrett, Laura Haviland, Lewis Hayden, Harriet Jacobs, William Lambert, Jermain Loguen, William Still and Harriet Tubman.
Below each portrait are eight lines of text displaying black/white, cooperation, trust/danger, flight/faith, courage/risk, defiance/hope, underground, railroad/USA.
Antonio Alcalá designed each stamp using existing images.
More for mail:US Postal Service proposes new postage stamp price hikes set to begin in 2024
Pinback Buttons
This stamp collection features 10 typographic designs by 10 artists in their unique styles, with a single word as the prominent design. Each stamp is round with shadowing and reflection effects, giving the illusion of a 3D pinback button.
Read more : Postcard Postage Cost Guide (Updated Spring 2022)
The stamp was designed by Greg Breeding.
See fall foliage before it's gone:Top 3 places to view fall foliage in Delaware, & more spots to leaf peep
Winter Whimsy
This seasonal collection features four stamps celebrating winter with lacy, symmetrical graphic forms inspired by snowflakes. Each stamp features a white design against a navy blue, teal, tan or dark blue-green background.
Greg Breeding was the art director for the project, with designs and illustrations by Bailey Sullivan.
Autumn Colors
The Autumn Colors collection features 10 stamps depicting existing photographs of foliage from around the country.
Ethel Kessler, an art director for the Postal Service, designed the stamps using photographs from photographer Allen Rokach (1941-2021).
Horses
The Horses stamp set celebrates "America's love of horses" with five photographs of equines in profile.
Horses were once a major part of early economic development in the country and are now valued as companions, athletes, members of law enforcement and useful for equine therapy, cattle ranching, forestry and entertainment, according to the U.S. Postal Service.
The stamps were designed by Derry Noyes and use existing photographs by Stephanie Moon and Karen Wedehenkel.
More 2024 stamp designs
To see the rest of the stamp designs that have been released so far for 2024, check out the gallery below.
Got a tip or a story idea? Contact Krys'tal Griffin at kgriffin@delawareonline.com.
The most haunted place in Delaware:See how scary Delaware is, plus you might be surprised by its most haunted location.
Don't miss these fall events:Enjoy fall views with these 3 seasonal, Halloween rides at Wilmington & Western Railroad
Source: https://antiquewolrd.com
Categories: Stamps