Hello and welcome to another 'Blog Post Monday'! I hope you're all having a splendid Easter.
You might be interested in
Now, recently I've spoken to a lot of what I like to call, "old school dealers", who, since the Covid pandemic, have realised the importance of having an online outlet for their antiques, however, they have no idea of how to get started. With this in mind, I thought I'd offer some basic tips for getting started with selling your antiques online.
You are watching: My Top 5 Tips For Selling Antiques Online (Beginners Guide)
So, as always, get that kettle on, fire up those computers and let's take a look at my 'Top 5' tips for getting started with selling your antiques online…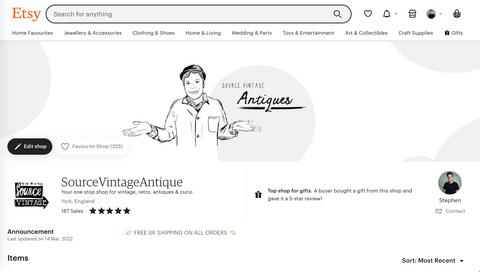 1. Etsy
The quickest and simplest way to begin selling online is through one of the major platforms, such as Etsy. It's easy to set up, it already has a massive audience and customer base which (fingers crossed) means that you can get selling instantly, and there's no initial big money outlay.
Obviously, with these benefits comes the downside of fees and commissions on the items you sell. Etsy has recently (April 2022) increased its fees which has come in for a bit of backlash. But don't let this put you off. While there are a number of different fees that Etsy charge, from listing an item to a sales commission, to being charged for a sale through an off-site ad, I think the positives of this platform out-way the negatives. And, while most of the time I can't make head nor tail of the fees they've charged me for certain sales, generally, with all costs in, it works out to be around about 15%, or at least that's what my awful maths brain has come up with…!
I hit the ground running on Etsy and I know a number of fellow dealers have done the same. There is a massive antiques scene on the platform so it's not a bad place to do a spot of buying too to be fair!
You can see how my Etsy shop looks HERE
2. Social Media
Whichever online platform you choose to sell your pieces on, social media plays a massive part in getting customers there. So, my advice is to get involved with as many as you can. Facebook, Instagram, Twitter, SnapChat, YouTube, Tik Tok, you name it, get an account set up. The more you put out online, the more chance you have of people finding your shop.
Some of these, I'm sure, will be daunting for a lot of people. Damn, I still don't understand some of them! But, in the first instance, choose the ones that you feel comfortable with and that perhaps you're most familiar with. Facebook and Instagram are a good starting point, but more Instagram if anything…
It's all about visibility, and whilst a lot of these social media companies are making it more difficult for you to be seen (unless, of course, you give them money for advertising), they are still a free option for advertising your business and networking. After all, all you need is one person to find you to get that ball rolling!
You can see how I do my social media here:
Instagram
YouTube
Facebook
Twitter
3. Key Words (Search Engine Optimisation)
'Search Engine Optimisation' (SEO) is the process of improving the quality and quantity of website traffic to a website or a web page from search engines.
With this in mind, another simple way for potential customers to find you and your items is by ensuring that you use all the appropriate keywords in the titles and descriptions of your listings. Think about the words you might use yourself to search for specific pieces on the internet and build your listing around them. It's another free and easy way for you to be found and move you up those all important Google search rankings!
4. Website
Now, this is an idea for later down the line.
Once you've found success on Etsy and you have a nice following of avid customers on your social media platforms, then you might like to consider having your own website. After all, this would save you those listing and commission fees! However, I really can't stress enough how important it is to build up your following before you decide to do this. I've certainly learnt from my own mistakes.
A lot of people assume that once they've created their own website shop, orders will come flooding in from word go! They won't…! People need to find you and that all takes time. However, if you've already built up a large following of loyal customers on Etsy and through your Facebook and Instagram, the chances are that they will follow you to your new website. I know of many dealers who have successfully made this transition and are reaping the rewards!
While you're here, why not go and have a look around my website and see what I've created.
5. Blog or Vlog
Finally, if you do decide to build your own website then it's worth giving some thought to adding a bit more value to your customer experience while again, creating another important marketing tool.
Certainly, writing a blog and doing a vlog has worked for me. The business term for something like this is a 'Sales Funnel'. Basically, a sales funnel is a marketing strategy designed to turn cold prospects into long-term customers by funnelling them through five stages. The "funnel" metaphor means you'll begin with a large audience of prospective buyers that will eventually pare down to a smaller group of high-value customers.
I'll keep this brief as I hate business jargon…! Basically, for this to work you'll need to give something in order to get something. So, in this case, that might be your blog or vlog content. Giving them trade advice. Teaching them about different items. Offering exclusive deals and discounts. Keeping them engaged and building trust between the potential customer and your business.
Here's a little 5 step example of how the 'Sales Funnel' might work:
Awareness
The first stage of the sales funnel is where a business catches the eye of new potential customers via marketing content, like a blog or a vlog.
Interest
You begin to create a deeper relationship with your potential customers. Maybe they sign up to receive your blog or vlog. You become more actively involved in learning about the things they are looking for or are interested in.
Desire
Potential customers who reach this funnel stage are convinced that they, quite simply, cannot live without a particular product. However, whilst they're coming around to the idea of making that purchase, they still have some doubts.
Action
The final stage of the sales funnel has the potential customer deciding to purchase (or not purchase) your product. This is the point at which action needs to be taken.
You can see what I've done with my Blog and Vlog here:
Blog
Vlog
I hope you'll find some, if not all, of these simple but essential tips useful and that they encourage you to dip your toe into the not so daunting online world of antiques selling. As always, let me know your thoughts in the comments section below and if you've got any questions, I'll do my best to help you…
Well, that's it for this week folks! Remember, if you enjoy my posts, please show your support by subscribing to my 'Source Social' membership, which you can do via the 'Home' page. It's free and gives you a weekly blog post and a fortnightly YouTube video delivered directly to your inbox, as well as exclusive discounts and first dibs on new items before they are added to our website.
And, speaking of my YouTube channel, if you're into antiques and haven't seen any of my videos yet, you can find them HERE. Head on over and subscribe to that too for your dose of finds, fairs, stories and reviews.
So, until next week, stay safe, keep buying those antiques and keep spreading that Source Vintage love!
Cheerio!
Stephen
Owner Source Vintage
Shop from Source Vintage HERE
Source: https://antiquewolrd.com
Categories: Antique News