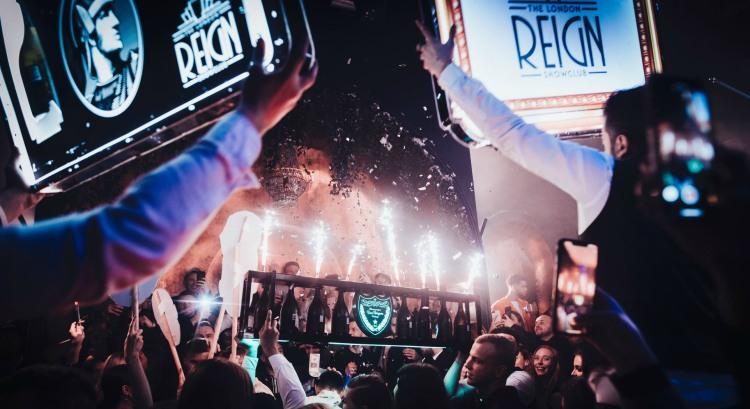 You might be interested in
The London Reign Showclub is the first ever aerial nightclub in London born in 2017. The venue, from its perfect Piccadilly Circus spot, offers incredible shows with Moulin Rouge-style acts, professional acrobats, sexy girls breathing fire and more. Similar to Cirque Le Soir and Windmill Soho, the live shows are here taken with more sobriety. At Reign Club all is about royality, luxury, fame and also elegance. Therefore, the entry policy here is one of the strictest in London. Before heading to the club make sure you have checked the Reign dress code policy and you are on the Reign Club guestlist. The Reign Club dress code policy is strictly smart and elegant for both ladies and gents. Your aim is to impress the door-staff so they can allow you to get in. The team at the door does not guarantee entry to anyone.
Reign Club Dress Code for Ladies
Either you are on the Reign guestlist or you booked a private table, all guests need to adhere with the Reign Club dress code. It is all about looking awesome, sexy, elegant and also trendy. Following the guidelines outlined below we are sure you will not have issues in getting into the club.
● Outfit. The outfit starts from the bottom: shoes. Simple because this is what the door-lady will look at first. Make sure you wear your killer high heels. Any heeled shoes, including nice and elegant boots are also fine. Stay miles away from flat shoes, sandals or any sort of trainers. If you wear a dress, you will have the highest chance to get in. A black dress is synonymous of elegance and therefore the most common choice. You can opt for a long, maxi or cocktail dress or for a short/mini dress that reveals some skin. If you feel more comfortable with trousers, try to choose something elegant like office or tight leather pants. Combine them with a trendy shirt (maybe a bit opened up) or a crop top so your look will be sexy.● Makeup. Coming to the makeup, there are no strict rules. You can freestyle. Just remember, you don't want to look underdressed for this night club. You can use bright, bold lips and beautiful eye makeup to complete your look. Eyes are pretty important, so try some cat eyes or smokey eyes, as it is a common and quick solution.● Hairstyle. Together with the makeup, the hairstyle needs to match with the outfit. You cannot go to any club with messy or dirty hair. Try a simple solution such as blow-dry or a straight long hair. If you have more time maybe do a bun or a ponytail. Curly or weavey hair also works.● Accessorizes.When it comes to Reign Club dress code for ladies, never forget to adorn your outfit with some accessorizes. Earrings, bracelets and necklaces are enough. However, if you want to stand up from the crowd, wear a designer belt or purse, maybe an expensive watch also.
Reign Club Dress Code for Gents
The Reign ShowClub dress code policy for gents is smart, casual, sharp and elegant. Something you have to pay the attention is not just being on Reign Club guestlist or following the dress code policy but is the guys:girls ratio. As the club wants to keep a certain image, their door entry policy does not allow gents alone (even as little as one). The ideal girls:guys ratio for a group in the queue is 60% or higher. If you think you have too many gents in your group, we suggest to book a private table instead. All gents willing to get into this nightclub need to conform the Reign Club dress code for gents as outlined below.
● Outfit. Tuxedos, three piece suits with a smart collared shirt is your best choice. You can also opt for black trousers, sleeks and chinos paired along with a shirt (collared, button-up or button-down). Jeans are not usually a good choice but, if you combine dark jeans with a shirt and blazer, you will be fine. Although you might seen someone wearing T-shirts inside, we do not recommend to go for them as club general policy says no.● Shoes. Approaching such demanding nightclub will require all gents, with no exceptions, to wear only elegant smart shoes. City or office shoes, Oxford shoes and loafers if black, blue or brown is what you have to look for. Banned shoes are: trainers, designer trainers, shoes with spikes, sandals, boots and running shoes.
Read more : FAQs | Battersea Spring
Entry policy: the security will take out of the queue and refuse entry for any intoxicated or misbehaving individuals. More info about the London club entry policy is also available.
CONTACT US FOR BOOKING
Reign Club Useful Information
If you are planning a sophisticated night in Central London and you want to join Reign London ShowClub we have more info about this venue.
Reign Club address: 215-217 Piccadilly, St. James's, London, W1J 9HN.Opening days: Tuesday, Thursday, Friday and Saturday.Opening time: 10:30pm-3:00am.Entry price: Standard admission is £20. Ladies might have free entry on door decision and before 11:30pm at the door.Table Booking: The minimum spend for a table is £1000. This is for an 8 people-sized group (50% maximum gents). For any bigger or all-males group the price will be higher and it has to be discussed on each case. Contact us at +447805727429 to hear more.
Source: https://antiquewolrd.com
Categories: Antique News