It isn't always easy to focus on one thing when you're browsing through cluttered antique centers or a plethora of items strewn out on a tag sale table.
You might be interested in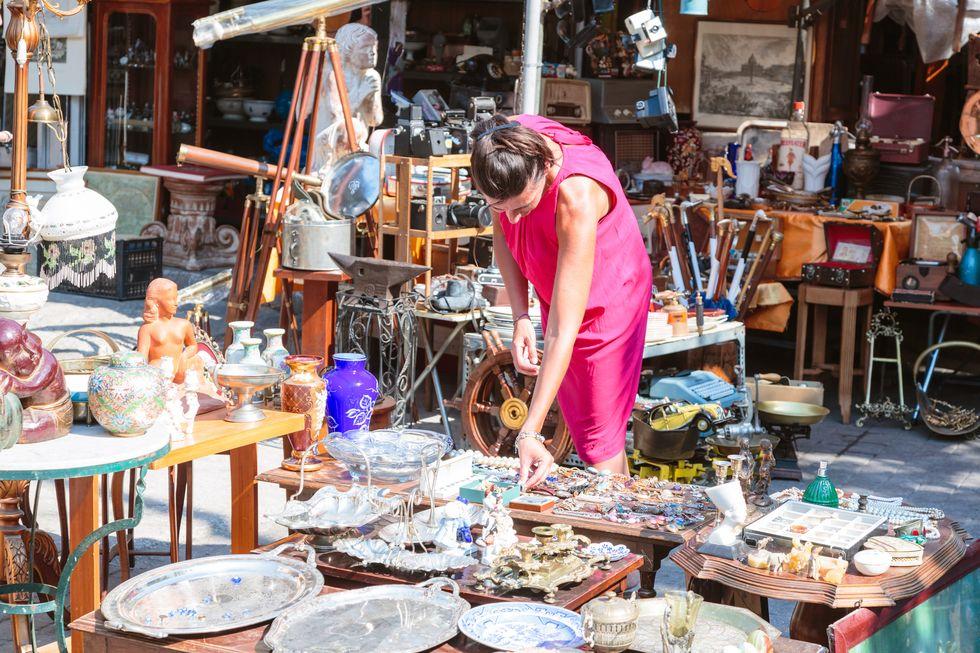 Credit: Getty Image / Matteo Colombo
It's natural to gravitate towards objects that you're instantly attracted to, but, what about the ones you haven't considered before? When shopping for vintage and antique goods, noticing something as small as an unusual coin can prove to be more valuable than you would have ever expected.
There can be valuable antiques and collectibles hiding in your attic or sitting out on a cluttered tag sale table just waiting to be scooped up. So, whether you're cleaning out your house or flipping through a neighbors leftovers, you may be surprised by what's worth a second look and which items can be potentially valuable antiques.
1. Hunting Decoys
Lot 12, Earnest-Gregory, Earnest-Gregory Dovetailed Goose, Massachusetts or Pennsylvania, c. 1870. Sold for $675,000 at Copley Fine Art Auctions
You've probably seen a few of these guys hanging around antique shops before. Next time you spot a carved wooden bird – flock to it and give it a closer look. Hunting decoys, once used to attract game, have a robust auction market. Since many antique decoys were used outdoors, finding them in good condition can prove rare – however, if made by well known carvers such as Earnest-Gregory or Elmer Crowell, you can be looking at values well and above $100,000.
2. Antique Flatware
Lot 208, An Extensive French Sterling Silver Flatware Service Puiforcat, Paris, 20th century. Sold for $30,000 at Freeman's
Piles of silver flatware can be daunting to sort through but, if you have time to inspect shiny forks and knives, you just might spoon feed yourself a good chunk of change. There are many considerations when it comes to evaluating flatware – here are some basic hallmarks to look for: weight and silver stamps. If the article feels lightweight, chances are it's silverplate – not sterling silver. Silverplate looks lovely but it's a lot less valuable than sterling. If you find the word Sterling stamped on the backside of a piece of flatware, that's good news. It means that the silver is either pure or made of .925 silver with .075 copper added. All sterling created in the United States after 1850 will be stamped with marks like Sterling, .925, and 925/1000. If you decide to take a few pieces home with you, additional research about the pattern and maker will help determine its worth.
3. Vintage Postcards
Lot 93, A collection of approximately 1500 early twentieth century pictorial postcards, predominantly featuring images of Chicago and other cities. Sold for $650 at Hindman
They might appear to be musty old pieces of paper but vintage and antique postcards are highly collectible. If you come across a bin of them, quickly sort through and keep in mind that pictures of famous people, unique moments in history, advertisements or nicely colored scenes can fetch $150 or more depending on rarity and subject matter.
4. Cameos
Lot 301, Important Large Victorian Carved Hardstone Cameo and Pearl Brooch. Sold for $3,133 at Auction Zero Ltd
Cameo jewelry has been a symbol of elegance and artistry for centuries with some examples dating as far back as the 3rd century BC. Unfortunately, its popularity has attracted different methods of inexpensively replicating the otherwise valuable raised relief portraits. The key to appraising a cameo is determining what material it's made from. Genuine cameos are carved from natural materials such as: shell, coral, stone, or lava and are set in gold or silver.
In some cases, if a cameo is made of shell, you can hold it up to the light and see natural variations and cracks as they would occur with a natural substance. Plastic, on the other hand, will appear too consistent and thick in certain areas of the design. Another good indicator of an authentic cameo are small markings or indents where a maker's tool would have struck the small portrait. Of course, the best way to tell if you have a cheap plastic replica or an ancient gem is to take your piece to a jewelry specialist for close inspection.
5. Cocktail Shakers
Lot 1146, J.A. Henckels Rare Airplane Cocktail Shaker. Sold for $9,000 at Rago
Arriving with a bit of a twist, is a category we can all enjoy – novelty barware or breweriana. Items like unique cans, corkscrews, cocktail shakers, and bottle openers can go down smooth at the auction block. Vintage cocktail shakers have seen results in the thousands like this J.A. Henckels airplane cocktail shaker, a Meriden lighthouse cocktail shaker, and a Wallace Brothers Rooster – all great examples of desireable barware!
6. Original Paintings
Lot 130, American Folk School (19th c.), Still Life with Staffordshire Pitcher, Fruit Baskets and Watermelon, c. 1850, oil on board, no signature visible. Sold for $2,500 at Millea Bros. Ltd
When it comes to shocking appraisals on shows like PBS Antiques Roadshow, paintings remain high on the list. If you're thrifting, try not to be fooled by low quality prints that are framed like original paintings – they are likely reproductions without much value. Instead, seek out hand-painted pictures, even if you can find a signature. Some folk paintings, like the example above, were painted by amateur artists and still can still be of interest to collectors. The painting can be a work on paper, an oil on board or mixed-media. In the grand scheme of things, original artworks with visual appeal are much more likely to be worth the purchase.
7. Copper Cookware
Lot 584, Group of Various French Copper Cookware. Sold for $4,000 at Stair
Copper pots are the benchmark of quality in a kitchen, their warm hues and unique array of shapes and sizes can heat up a collector's eye like nothing else – but, beyond their rustic aesthetics, the benefits of copper are also important to understand. The chemical element of copper has natural antibacterial properties which ward off harmful fungi and bacteria such as E. Coli and other contaminants that could come from your food. Copper is also corrosion resistant and strong enough to last you decades if not longer when properly cared for. Handsome sets or individual copper pots are worth buying if you can determine that the material is indeed copper – beware of similar brass versions!
8. Cast Iron Doorstops
Lot 1233, Cast Iron Halloween Girl Doorstop, Charming young girl in her Halloween costume holding Jack-o-Lantern. Made by Littco Products of Littlestown, PA. Sold for $12,500 at Pook & Pook, Inc.
If you think doorstops are something to be walked over, think again. Intriguing cast iron pieces like antique animal motifs, figures, and holiday themed selections can fetch over $1,000 at auction. If you happen to have a heavy old clunker laying around somewhere, it might be a good idea to look into whether or not it has collectible value – it just might be an unexpected valuable antique!
9. Rare Coins
Lot 310, 1796 Half Dollar, Small Eagle Reverse. Sold for $12,000 at Brunk Auctions
The collection of coins or paper currencies, also known as Numismatics, is in an impressive league of its own. Studying sought after coins is worth the time if you have the desire to sift through uncleaned piles of old change. Depending on the country of origin, date, condition and image, you can see a major return on your time. Just one 1796 Half Dollar fetched $12,000 at Brunk Auctions in 2021.
10. Redware Pottery
Lot 1109, Rare North Carolina redware charger, ca. 1810, possibly Dennis pottery, New Salem, North Carolina. Sold for $11,000 at Pook & Pook, Inc.
Antique redware is a type of utilitarian pottery that was being used and eventually produced in the early American colonies. The bold red color, coming from high iron content in the clay, is typically contrasted with creamy yellow, white or green details. Unfortunately, the low fired earthenware is very fragile and few early examples have survived. However, should you come across chargers, jars or plates of redware from the early 19th century, you could still see prices upwards of $2,000 for one item. In addition, due to the porous nature of earthenware and the early lead-based glazes used on them, it is inadvisable to use any early examples to store, display or eat food from.
11. First Edition Books
Read more : 10+ Flea Markets in Ohio – Best Locations to Find Unique Treasures
Lot 50, Joyce, James, Ulysses. Paris: Shakespeare and Company, 1922. First Edition, Limited Edition, Signed by Joyce. Sold for $110,000
Long story short, first edition books can be surprisingly valuable. Thumbing through well known titles, historical editions or cookbooks to check if it's signed by the author or a first edition is a good place to start when browsing through a tag sale bin. It's not only the old books that can be worth a lot of money – a signed, first edition copy of Harry Potter and the Philosopher's Stone by J.K. Rowling sold for $120,000 at Hindman in 2019.
12. Wicker Furniture
Lot 495, Green Wicker and Linen Upholstered Chaise Lounge, Bielecky Brothers. Sold for $2,500
For those of us who are just arriving at the "coastal grandmother" trend, welcome home. Wicker furniture is a classic, elite staple of wealthy three-season rooms, seaside cottages, covered porches or indoor living spaces. Due to the sourcing of the material and all of the complex weaving that goes into making wicker furniture, a single (well maintained) piece could fetch anywhere from $500-$1,000 in a second-hand store.
_________________________
Courtesy of Brimfield Antique Show: @brimfield_antique_show
Think you've uncovered similar items in your attic? Keep up the research or ask an auction house specialist near you to appraise your item by visiting our Directory and Auctions Near Me page!
_________________________
The new Bidsquare mobile app is available to download for free in the Apple Store and Google Play. Download it today to bid on the best fine art and antiques.
_______________________________
With new auctions added daily, we're always ripe for the picking. Be sure to check Bidsquare's monthly finds for little bits of wonderful from every catalog.
Don't have a Bidsquare account? Sign up here!
Be in the know about upcoming auctions and exciting post-sale results by following us on Facebook and Instagram.
_______________________________
Jessica Helen Weinberg | Senior Content Editor at Bidsquare
Source: https://antiquewolrd.com
Categories: Antique News