Everything you need to know about shopping in Tunbridge Wells…
For anyone who lives in Tunbridge Wells or who is thinking of visiting, we have put together a comprehensive guide for shopping in Tunbridge Wells. This includes Tunbridge Wells High Street, Chapel Place, The Pantiles, Royal Victoria Place, Camden Road, Monson Road and of course North Farm Industrial Estate.
You might be interested in
Post Covid, the Tunbridge Wells shops need our support more than ever. We are lucky to have a super selection of specialist shops, as well as well-known high-street names, making Tunbridge Wells a popular place for people to visit for both shopping, dining and exploring the charming and historic setting. There are plenty of independent shops and cafes to choose from as well as some of the popular chains too. We are a vibrant town, and new shops and cafes are opening all the time.
You are watching: Shopping in Tunbridge Wells
I look at Royal Tunbridge Wells as having two areas. The 'newer' area with Royal Victoria Place and the surrounding streets and then the historical area, being Tunbridge Wells High Street, Chapel Place and The Pantiles. Keep on reading to find out more…
Wondering where to go shopping Tunbridge Wells?
I have included lots of useful information below about Royal Victoria Place, The High Street and The Pantiles and what to expect from each. Other places to note are outlined below too – including St John's, North Farm Industrial Estate, Mount Ephraim, Calverley Road and Mount Pleasant.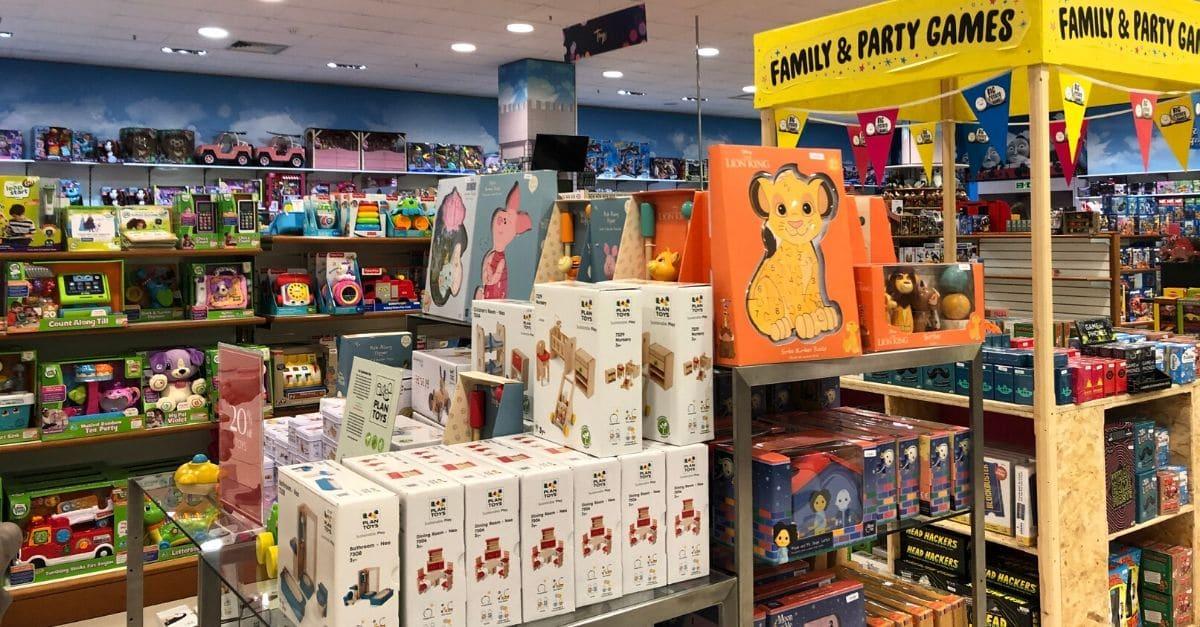 Royal Victoria Place
Royal Victoria Place is in the upper half of Tunbridge Wells and mainly features high street chains including Urban Outfitters, a large M&S store (including a food hall), WH Smith, Next, Oliver Bonas, Boots, Wilko, Sports Direct, Superdry, Hotel Chocolat, Lush, The Body Shop, French Connection, Bird & Blend Tea Co. and many more. The main department store is Fenwick, which has a lovely selection of beauty and clothing for men and women, as well as a whole floor dedicated to toys and home.
The shopping centre is set over two main levels for shopping and also has food hall in the basement. You'll find the main entrance to Royal Victoria Place (also know as RVP to locals) next to the Millennium Clock and Costa.
For families, there is soft play at the basement in the food hall. There are also baby changing facilities next to the food hall, as well as a feeding room with microwave. These facilities are also available on the third floor in Fenwick, which is a bit more appealing… There's also a room for baby feeding in Fenwick too.
More about Royal Victoria Place…
Parents can also hire push along cars from the concierge desk on the second floor outside Claire's Accessories. They are free of charge. You'll just need some ID for this and your child has to be a minimum / maximum height.
I often park at Royal Victoria Place and find the -1 basement level to be the easiest for getting a space. That said, when I have a buggy with me, Level 4 is good as it has automatic doors, which bring you straight through to the ground level. No need to use the stairs or go in a lift. There is also parking in Meadow Road car park, which just needs you to cross a road (there are pedestrian crossings) and then you can enter the mall easily there.
Image source: Depositphotos
Overall, Royal Victoria Place has decent accessibility. Level 4 is good for parking with a generous amount of spaces, there are accessible toilets (I'm double checking exactly how many) and there's a Shopmobility on the ground floor at the back (towards Next), which offers manual chairs, powered chairs and scooters. Shopmobility aren't open on Sunday, Mondays and Bank Holidays, but a manual wheel chair is available on request from the Concierge team.
Tunbridge Wells High Street
Tunbridge Wells High Street is the historic quarter of Royal Tunbridge Wells. It's one of my favourite places to browse around and I nearly always ends up with a treat at one of the gorgeous independent Tunbridge Wells cafes.
Some of my favourite shops on The High Street include Anthropologie, Luxe Vida, Sweaty Betty, Bod & Ted, The White Company and Mint Velvet.
For people visiting Tunbridge Wells, make sure you have a look in the window of G.Collins & Sons, who was personal jeweller to Elizabeth II!
A visit to Juliet's Cafe is an absolute must too, with delicious cakes and healthy lunches. All served on beautiful vintage crockery, this is such a treat. There's also Good & Green for coffees plus health food, and Gail's Bakery on the high street. Plus some fab places to work remotely from.
There are several sweet little roads off The High Street, my favourite being Frog Lane and closely followed by Castle Street, home to the delightful Casa Claudia cafe.
Chapel Place
Continue down The High Street to a hidden gem called Chapel Place. A quirky pedestrianised collection of shops including Le Petit Jardin, The Silver Sheep and Gabriella Jewellery.
Read more : Antiques for Everyone November 2022
Chapel Place is full of character and if you haven't been before, then make sure you pop into Hall's Bookshop, which has been buying and selling secondhand books in Royal Tunbridge Wells since 1898.
These small, independent shops fit in beautifully with their surroundings and there's always a laid back vibe around here. People seem to be less rushed and are shopping in Tunbridge Wells for enjoyment.
Arte Bianca is an authentic Italian-owned deli, which comes highly recommended, and the Oxfam Bookshop has plenty of gems to pick up too.
Chapel Place links the High Street and The Pantiles so Chapel Place Wine & Gin Bar is the perfect place for a pitstop!
The Pantiles
The Pantiles, to me, is the jewel in Royal Tunbridge Wells' crown and somewhere I always take family and friends when they visit. It is rich in history and has been popular ever since a spring was discovered there in 1606. You can visit the Chalybete Spring when you are there these days and drink some water from the spring too!
But back to the shops…There's a good balance of independent shops and cafes on The Pantiles with al fresco eating available almost all year round! There's so much choice for lunch, brunch and drinks. Trevor Mottram is the creme-de-la-creme of kitchen accessories, while Collared sells dog accessories and gifts. The Zero Waste Company offers a fantastic range of treats as well as eco friendly products and refills including zero waste shampoo, cleaning products, pasta, grains, nuts, flour and so much more. All to take care of yourself and your home. They sell great coffee and cake their too as well as locally made ice-cream.
Tell me more…
Hattons, The Cake Shed and The Ragged Trousers are great for food and drink too.
Plus look out for the twice monthly Farmers Market on The Pantiles and spend some time browsing the multiple art galleries while there too. A special mention goes to Sankey's The Old Fishmarket where I learned to shuck oysters!
A visit to Tunbridge Wells is not complete without seeing The Pantiles so make sure it is on your agenda! Oooh and when you are in the area too, make sure you have a drink in The Tunbridge Wells Hotel – it has the best view of the bandstand for summer jazz in The Pantiles, too.
As a family, we love to have a walk on The Common, which is just behind The Pantiles (on the side of The Ragged Trousers). After that we nip down to The Pantiles for a hot chocolate and maybe some fudge, if we're lucky and the market is open.
Camden Road & Monson Road
Camden Road and Monson Road combine to make one long road. It stretches from the corner of Mount Pleasant and heads around and down towards St Barnabas School.
Camden Road has a really eclectic selection of shops and almost a bohemian feel to it. I enjoy looking around all of the quirky shops there. Occasionally I'll pick up some bargains, especially preloved toys from some of the charity shops. There's also some fab restaurants such as The Square Peg, Il Vesuvio and Roddy Burger on Camden Road.
I always get my kids shoes at Stampede, an independent store which I can highly recommend. Wildside Cycles are really helpful too. Simmonds is also the one-stop shop for school uniforms. Have a wander down the road and see what takes your fancy.
There are several super shops on Monson Road too. My son's favourite shop in Tunbridge Wells is Jeremy's Hardware, which is the biggest UK stockist of jellycat toys – and they have everything else under the sun that shop too! Another great place is Saltmarsh art shop, which has been running since 1835! There's a Lakeland too and popular Cook, providing a range of handmade global dishes and puddings.
And The Farmer's Market?
The Tunbridge Wells Independent Farmer's Market takes place on The Pantiles. It takes place on the 1st and 3rd Saturday of the month from 10am – 4pm. Browse some lovely local produce including fish, meat, bread, eggs, cheese, preserves, plants, cakes, fruit and vegetables.
St John's
St John's is the area at the very top of the town, leading into Tunbridge Wells. It has a growing choice of independent stores from The Bloom Foundry selling fantastic flowers and antiques to the Even Flow Music Store and Cafe as well as the ever-popular Basil cafe. There's even an Escape Room experience there!
Grosvenor Road
Grosvenor Road is home to several beauty and hair salons as well as Go Bridal and the infamous Creams Cafe! Fuggles Beer Cafe is always a pleasure to visit, serving British & European beers, plus wine, cocktails & sandwiches. There's also Zorba – fab for Turkish food – and Green Duck Emporium. Don't forget Pound Land too – always good for a bargain!
Mount Ephraim
Mount Ephraim is on the hill overlooking Royal Tunbridge Wells. It is home to the gorgeous Isabella Grace Bridal (where I got my wedding dress) as well as Zaven's Gallery, Gifts, Flowers and Coffee.
Sankey's Seafood Kitchen and Bar is located there too, as well as The Mount Edgecumbe (further down the road) and The George pub. Back to shopping though…
Calverley Road
The pedestrianised street adjacent to Camden Road just outside Royal Victoria Place in Tunbridge Wells is called Calverley Road. It also continues further up as a non-pedestrianised street.
Shops on Calverley Road in Tunbridge Wells include a big and spacious Waterstones Book Shop, Clarks footwear (for both adults and children), The Worx (for discount books and stationary), Fat Face, White Stuff and a lovely big Holland & Barrett.
Beyond the pedestrianised part of Calverley Road, there are several shops and restaurants too. The Giggling Squid and Gaab Khao are favourites of mine for Thai food and Snug has lovely furniture and homeware too. There's also Caar's Corner chemist, Sharp's, Fired Earth and West One bathrooms – plus The Guinea pub, which has a fab pub quiz.
Mount Pleasant
Mount Pleasant connects the upper end of Tunbridge Wells to The High Street at the lower end of town.
On the upper end of Mount Pleasant, Whirligig Toys is a fascinating independent toy shop that stocks only toys that are "doing" toys – we always pick up kids' gifts here. There's also the renowned Opera House, which is now a Weatherspoon's pub. This is definitely worth a visit as you can still imagine – and see – how it was when it was an Opera House.
Further down the road, JoJo Maman Bebe is a popular option for children's clothes, accessories and toys. Bubba & Me is a great hub for parents. There are some women's clothes shops too including Phase 8 and Jigsaw. Two shoe shops add to the mix too – Jones Bookmakers as well as Russell & Bromley. And a newly extended Wagamamas.
Make sure you pop into Hoopers if visiting Tunbridge Wells too. A traditional luxury department store with a certain charm to it. Macknade has recently opened there and is a fantastic place to visit for an informal meal or catchup with family or friends. They also have some wonderful wines from plenty of vineyards in Kent as well as beers, ciders and produce to purchase.
When you pass by the home of BBC Radio Kent, remember to wave in at the DJs through the window in The Great Hall Shopping Arcade! There's a Sainsbury's local here too.
You can find The Range, a large retail store selling items for the home, garden and leisure products opposite the side entrance for Tunbridge Wells Train Station. There's also an Iceland in The Range too.
Tunbridge Wells Retail Parks
There are several different retail parks at North Farm in Tunbridge Wells and actually a pretty good choice of shops including the following:
Kingstanding Business Park – including Furniture Village and Carpet Right
Tunbridge Wells Shopping Park – including New Look, TK Maxx, Next and Argos
Great Lodge Retail Park – including B&Q, Aldi, DFS and Hobbycraft
Asda Tunbridge Wells Superstore
Fountains Retail Park: including Marks & Spencers Food and Home, Home Sense, Wren Kitchens, Pets at Home and Halfords. If you are hungry, there's KFC, MacDonalds (including a drive thru), Costa, Gregs and Subway too!
Where to park in Tunbridge Wells?
We are putting together some more detailed information about parking in Tunbridge Wells town centre and surrounding areas.
My favourite place to park for the upper end of Tunbridge Wells is at Royal Victoria Place. For the lower end of town, the car park at The Range is good for an hour or two. Alternatively, try the carpark on Major Yorks Road for The Pantiles where you can park all day. Or opposite that on Eridge Road just next to the new flats.
There is free parking for up to an hour along the road on The High Street in Tunbridge Wells. Or another option is to park along Mount Ephraim for up to two hours free parking. There is also a bit of two-hour parking alongside The Forum on Castle Road.
Additional info about shopping in Tunbridge Wells…
On Sundays, most shops are open from 10am to 4 or 4.30pm.
Sunday Shopping in Tunbridge Wells
On Sundays, the shops in Royal Victoria Place, some in Calverley Road, Mount Pleasant Road, the High Street and The Pantiles are open from 10:30am to 4:30pm for a leisurely stroll around the town.
We are spoilt for choice when it comes to eating and drinking in Tunbridge Wells too. Find out more about the best child friendly cafes around Tunbridge Wells as well as pubs with play areas. We have also written about the top cafes in Tunbridge Wells.
We also have tons of suggestions for things to do with the kids as a resident or tourist.
Do you have some recommendations too? We would love to hear from you. Please do comment below and let us know your thoughts? Or send an email to clare@mytunbridgewells.com
If you are local business that would like to advertise on My Tunbridge, please do get in touch too!
Source: https://antiquewolrd.com
Categories: Antique News