The term 'flea market' may be derived from the French term 'marché aux puces,' used to describe the Parisian open-air bazaars selling second-hand goods, possibly containing fleas. Flea markets are typically outdoors, where vendors gather to sell vintage clothing, antiques, and handmade crafts.
You might be interested in
Flea markets attract environmentally conscious consumers who prefer to reuse something unwanted. The markets are fantastic for bargains or something unique to make a fashion statement or a retro style at home. The capital is a mecca for vintage markets. Check out seven of the best flea markets in London.
You are watching: 7 Flea Markets in London: Unearth Hidden Vintage Gems
The Best Flea Markets in London
Haynes Lane Market – Crystal Palace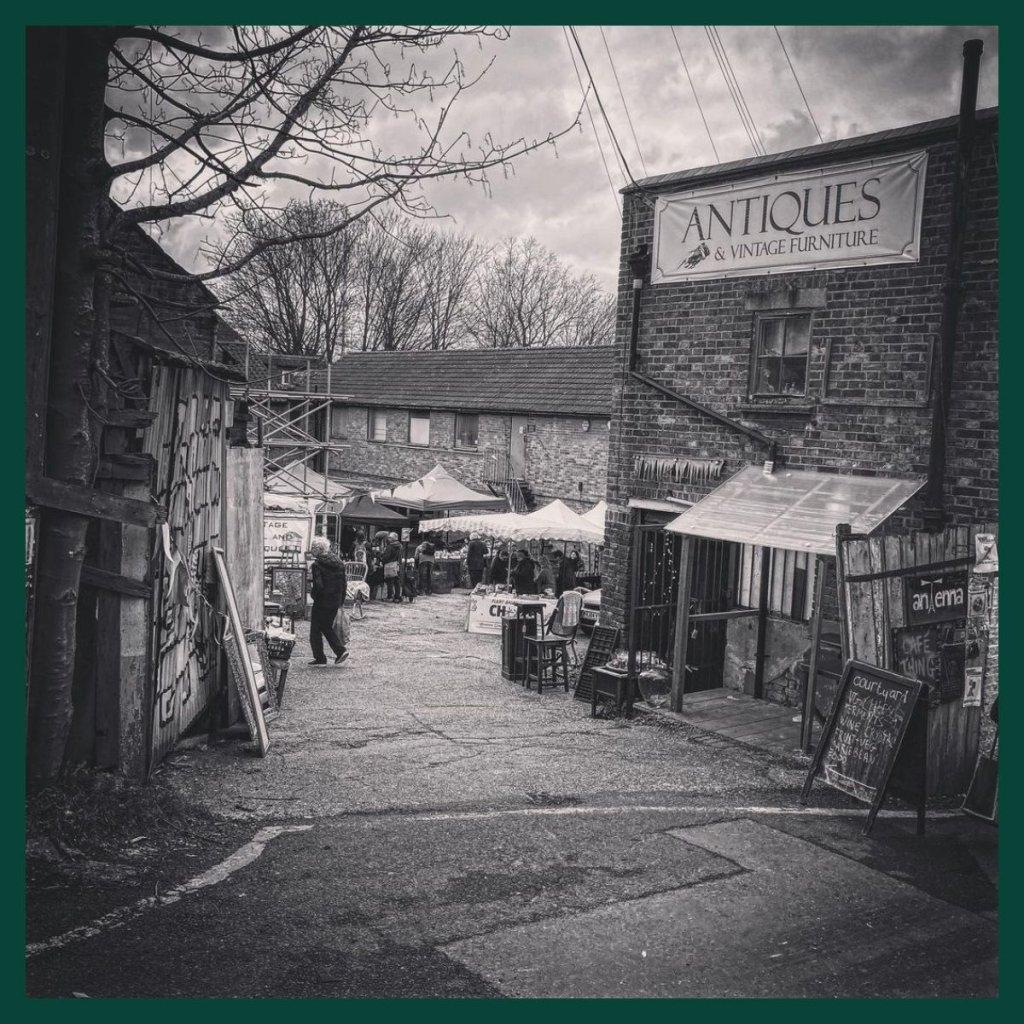 In the heart of Crystal Palace, near its famous park, is Haynes Lane Market, an old-fashioned flea market overflowing with unwanted and discarded items. There are two floors for you to rummage through household goods hunting for bargains, and there is a good selection of vinyl of various genres.
Every Saturday, between 10 am and 3 pm, Haynes Lane Market holds a food market selling fruit, veg, cakes, pastries, bread, and dairy. Other traders include a pet stall, CBD and incense, crystals and jewellery, wine, soap, and upcycled clothes. The list goes on. There is such a fantastic, eclectic mix of goods to purchase.
Suppose you want to visit a market with a down-to-earth, intimate atmosphere with friendly and cheerful traders selling vintage, antique, collectables, and artisanal goods. In that case, Haynes Lane Market makes an excellent choice.
Address: Haynes Ln, London SE19 3AN
Northcote Road Antiques Market – A Tucked Away Tardis
Established in 1986 by 30 freelance dealers, Northcote Road Antiques Market was a gem tucked away on a Battersea shopping street. In 2013, the BBC's Antiques Roadshow took place at the antique centre, a testimony to some of the high-quality goods that pass through its doors.
Walking through the flea market's small shop-front gives a deep tardis-like impression as the building stretches deeper. A vast array of goods is displayed, from Regency glass of the 1800s to country pine and retro vintage.
The well-laid-out shop spreads over two floors and is easy to walk around. There are items to suit all budgets. The informative stallholders are always open to a chat.
Northcote Road Antiques Market is a treasure trove of an antique market in London and is open seven days a week.
Address: 155a Northcote Rd, London SW11 6QB
Telephone: 020 7228 6850
Bermondsey Antique Market – From Del Boy To A Thriving Market
The Bermondsey Market is one of London's oldest. Over the 75 years, the market has been open for business, it has encountered turbulent times.
The Sales of Goods Act 1994 threatened the market's survival. Previously, an old law followed a French marché ouvert or open market theory. Sellers were free to sell stolen goods without risk of prosecution if the owner did not claim them. Aspiring Del Boys enjoyed years of immoral trade until an influential person had their property stolen.
Today Bermondsey Antique Market is an entirely different affair. The open-air flea market held every Friday is a well-respected antique market attracting many traders buying stock items for their shops and other dealers selling their market wares. It means that new stock is always arriving.
Read more : The Annual Buxton Antiques Fair – 19 – 22 May 2022
Local traders sell antiques, collectables, and household bric-a-brac, including dinner sets, cutlery, jewellery, glass, clothes, and military memorabilia.
Recent reviews say the market is worth visiting, and it is possible to come across interesting pieces. A few suggest it is sometimes on the small side, with a limited selection of products. Others have found that during their afternoon visits, more vendors are present.
The Bermondsey Antique Market says it is still recovering from the pandemic and appreciates the support to help build back up to pre-pandemic levels.
However, if your timing is right, there are some unusual and interesting findings.
Address: 11 Bermondsey Sq, London SE1 3UN
Telephone: 0333 358 3688
Portobello Green Market – London's Best Vintage Market
Portobello Green Market boldly claims to be London's best vintage market in fashion, and antiques, attracting some of the most creative designers. That declaration could be accurate considering its Notting Hill flea market location and held in conjunction with the world-famous Portobello Market.
The Portobello Green Market is open over the weekend, starting Friday. Regardless of the weather, they take place from 9 am to 5 pm, as many stalls stand under its iconic canopy.
Friday is Vintage Market Day, attracting those passionate about fashion to vintage styles and the latest trends. There is an exciting global influence from France, Japan, Eastern Europe, Tibet, Peru, and America.
Saturday is Fashion Market offering a plethora of styles. If you want to stand out from the crowd and find your unique style, choose from vintage, ethnic, street, rock, military, and chic fashion. Saturday is the busiest day, so brace yourself for crowds or arrive early to avoid them. However, the market's hustle and bustle add to the colourful atmosphere and live music.
Sunday presents one of the best flea markets in London, from 10 am to 4 pm. There are more vintage fashion stalls, bric-a-brac, antique, and flea market stalls. Sunday is quieter than Saturday's thriving market.
Portobello Green Market is dynamic. It's a wonderful experience to wander the bazaars and soak up the atmosphere, and remember to try the mouthwatering street food available.
Address: 281 Portobello Rd, London W10 5TZ
Camden Passage – Pedestrian Only
Camden Passage is a picturesque, cobbled street with Victorian and Georgian houses that is not to be confused with Camden Market.
Since the 1950s, Camden Passage has been part of the same prestigious group of leading antique shops in London as Portobello Road and Spitalfields antique market. Camden Passage has made several TV appearances on Cash in the Attic and Bargain Hunt.
Today, it is still possible to find treasures of silverware, collectables, and vintage clothing. Added to the collection is an exciting mix of arts, crafts, and artisan food, such as chocolates, handmade jewellery, specialist delis, a fishmonger, clothing, Japanese prints, and various eateries.
Read more : The Best Antique Markets in London: An Insider's Guide (2023)
There are three markets held at Camden Passage over various days.
The covered Pierrepont Arcade Market sells antiques, vintage clothing, and books on the corner of Camden Passage and Pierrepont Parade.
On the junction of Camden Passage and Charlton Place is the Charlton Place Market, which sells general antiques and collectables.
In the centre of Camden Passage is Camden Passage Market. A walk through the quaint shops and stalls will reveal a variety of vintage, modern, and bric-a-brac.
The passage is a short distance from Regent's Canal, and combined, they make a charming way to while away a few hours.
Address: 1 Camden Passage, Islington, London N1 8EA
Telephone: 07463 557899
Greenwich Vintage Market – A Diverse Community Market
Although called a vintage market, Greenwich Vintage Market likes to add a bit of everything to the mix. They aim to unite a community with a joyful atmosphere and a diverse array of goods for sale.
The market has been open for five years, attracting vintage, modern, and fashion vendors. Talented stallholders sell handmade products, such as fudge, paintings, jewellery, soaps, candles, and upcycled furniture.
It is a fabulous place to stroll around, and haggling is accepted if you want to give it a go. There are plenty of international food choices at stalls, pubs, and restaurants.
The area is a thriving hub of food, culture, and maritime history and a great place to visit for locals and tourists.
Address: 2 Greenwich Church St, London SE10 9BQ
Telephone: 07775 246473
Brick Lane Vintage Market – The Truman Brewery
The Brick Lane Vintage Market takes place in part of the old Truman Brewery site every day. It is a fascinating vintage market in London to visit. The flea market is an Aladdins Cave of goodies, from Victorian undergarments, vinyl, and vintage accessories to new designers selling their latest creations.
It is one of the biggest vintage clothes markets in London. It has everything, so many styles, and the clothes don't smell musty or stale.
During the week, it is quieter with fewer people. However, the upstairs food market is in full swing at the weekend.
Brick Lane Vintage Market is a fantastic place to visit. You can happily browse for hours, with the bonus of being indoors on rainy days.
Address: 85 Brick Lane, London E1 6QL
Telephone: 020 7770 6028
3 Tips for Shopping at Flea Markets
Arrive early. The early bird gets the worm, which is usually the case at flea markets. As traders unload, buyers hover, waiting to grab the best bargain.
Take cash. Traders might accept card payments. However, most have to pay a processing fee, so you have more chance of negotiating a reduced price if you have cash.
Dress down and casual. Money talks, and the same goes for your clothes. If you wear designer gear, the prices are more likely to go up. Besides, you want to feel comfortable, at least with suitable shoes for walking.
Source: https://antiquewolrd.com
Categories: Antique News