My proudest achievement:
Every time I find a piece which sings in a house or interior; it can feel as if something has been 'put back' correctly, and the right thing has been done by the house.
You are watching: The Interview: Edward Hurst
An object I would never part with:
An enormous painting by George Spencer Watson (pictured below) of his wife Hilda. She floats across a Dorset landscape leading her grey horse with a brindle lurcher at her heels. It was painted in Dorset shortly before the outbreak of the First World War, and hung for many years in their house, Dunshay Manor outside Swanage. It turned up in an auction house in Dorchester and the telephone bid was conducted by, unknown to me at the time, the person who would become the love of my life, my partner Maddi. It has been a touch stone between us ever since.
The best gift I've ever received:
The great antique dealer, Ronald Lee, gave me his full set of Country Life magazines from the 1880s onwards. Pre-internet these were an invaluable resource, and I'd spend weekends trawling the issues and visiting many long-destroyed country houses in my mind. Unfortunately, I had to give them away when I moved from my previous gallery in Wiltshire, but this feels rather fitting. I hope they continue to pass from hand to hand.
My guiltiest pleasure or greatest extravagance:
Horses and hunting – not a guilty pleasure in the least but certainly the greatest extravagance! I sometimes wonder about the dream house I could be living in if I didn't have horses and must quickly stop myself. My daughter Fleur is a keen horsewoman, and we have shared many thrills and spills since her childhood.
My next weekend-away destination:
I have been lucky enough to be invited to Jasper Conran's opening weekend of his new hotel in Tangier – he has been tirelessly converting Yves Saint Laurent's house Villa Mabrouka into a hotel. It looks divine, and if his other projects I have known are anything to go by, will be the ultimate in taste and comfort.
My favourite flea market or antiques fair:
In France, it would be Carpantresse. In the UK, Newark is traditionally where the trade has gathered, and can be great for finding really useful architectural elements. The highlight of my work year is the annual antique dealers Swap Shop in Stow-on-the-Wold. I have made it my mission to encourage all dealers to attend. You see a mix of styles and tastes, and it is the actualisation of the awful phrase one man's trash is another man's treasure. You can start with a tea caddy and trade your way up to a wonderful piece of lacquer if you play your cards right.
Hilda, by George Spencer Watson
I feel most confident when wearing:
Like most people who live in the Northern Hemisphere, I feel most comfortable in winter when I can wear a dark blue woollen polo neck, an old tweed jacket and moleskin trousers.
My signature scent:
Read more : Best Flea Markets in London
I've never worn a scent, however I imagine that the dusty environments I love best must somehow have rubbed off on me.
My go-to recipe:
Poulet A L'Estragon by Elizabeth David, or any Elizabeth David. There is a comforting simplicity to her writing, and I appreciate her regular suggestion of a glass of wine.
My all-time favourite fabric:
I love using 18th-century period fabrics. There are some exquisite quality contemporary fabrics, but they can't quite reach the texture and imperfections of period cloth. Polly Lyster has wonderful antique linens and quilts, and can dye them to most natural colours she creates herself. She is my go-to for upholstery and plains, but nothing beats an 18th-century moreen.
The person I call for good advice:
My best friend Robbie Williams (not the singer). His positivity is unlike anyone I have ever met, and his knack for hanging impossible items in unlikely places is famous. He helped build my stand and kept me calm at Olympia, and then Masterpiece every year, and he is the first person I would call if I had any knotty conundrum.
The person I call for a good time:
I only seem to be able to have a good time after getting work out of my head, so Robbie is often the person by my side when a project is near completion. After building a fair stand we would invariably get ourselves into some sort of terrible scrape.
My dream dinner party companion:
If time travel is allowed, it would be the architect of whichever house I happen to be working on. I ache to hear architectural irregularities explained, or what number of rooms a massive, fitted kitchen has obliterated. Often the original build is the key to a house, and I have a predilection to speculate for hours about the original floorplan, which can be deadly dull for most people, but I imagine would be a fantastic evening for me and the architect.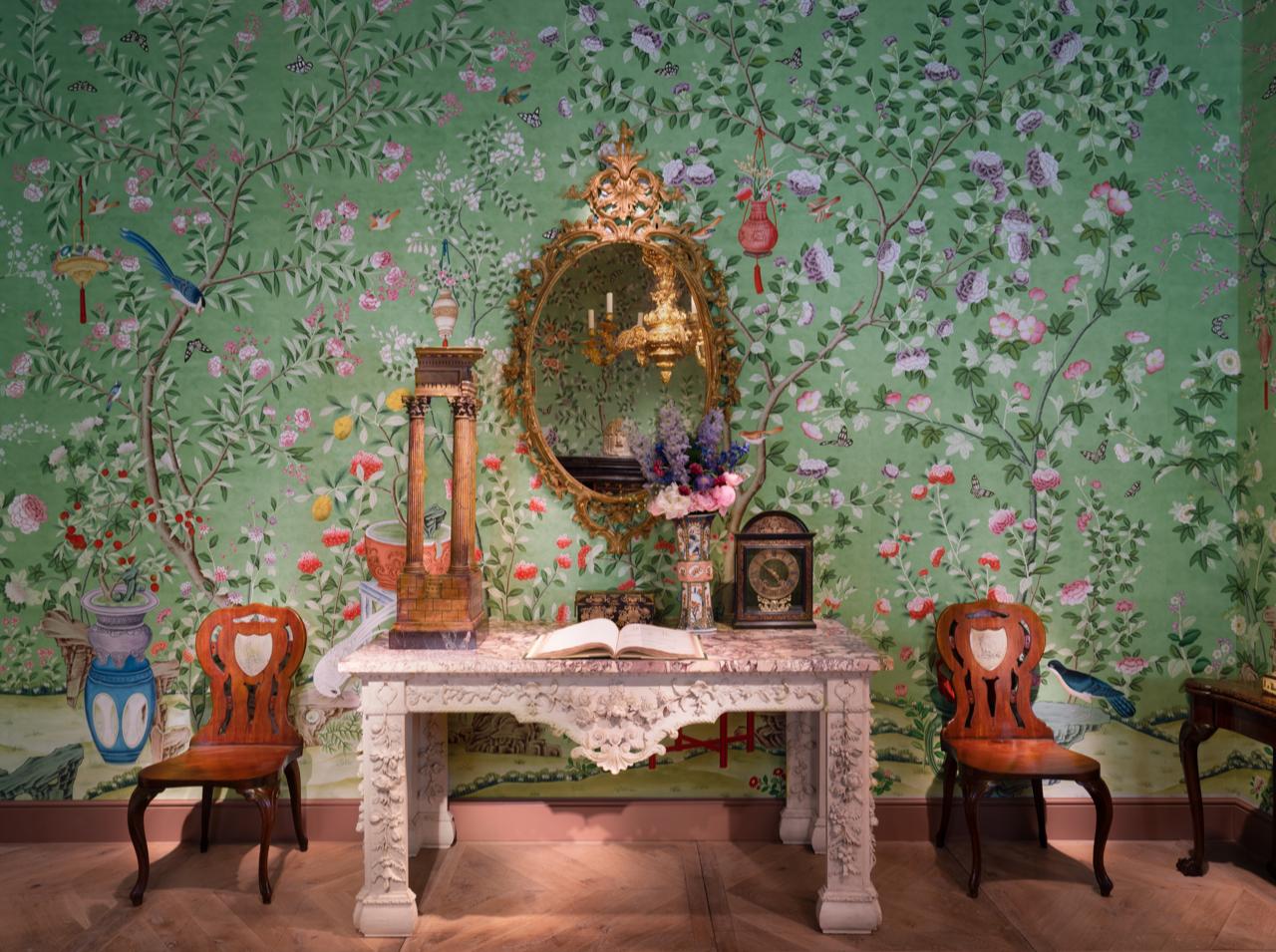 An installation for Frieze Masters, Edward Hurst
An artwork or exhibition that took my breath away:
I'm afraid to say the thrill of seeing a piece I lived with, handled, and subsequently sold to a museum. Egotistical maybe, but nothing matches it and I feel very pleased on the object's behalf to see it displayed for all to see. On the other hand, the gasp can be one of horror if the piece is badly displayed or has disappeared into the storage vaults.
Ideal interiors in three words:
Read more : Philip Chasen Antiques
Logical, historical, romantic.
Distasteful interiors in three words:
Incorrect historical simulations.
A new artist or designer whose work excites me:
Philip Joseph – he has a minimalist aesthetic, but with the attention to detail that is necessary to pull of maximalism well. I think he could turn his hand to any type of interior.
Just One More Thing
One master: Christopher Gibbs
One muse: Whichever house I happen to be working on at any moment
One city: Florence
One artwork: The Ambassadors, by Hans Holbein The Younger
One book: The Aubrey Maturin series by Patrick O'Brian – I'm afraid 21 books!
One museum: Pitt Rivers, Oxford
One shop: Period House Shop, Ludlow
One song: Blowing up my Mind – The Exciters
One color: Brown, every shade
One flower: Anemone
One word to describe your style: Sleepy
One word to describe Cabana: Invaluable
Source: https://antiquewolrd.com
Categories: Antique News