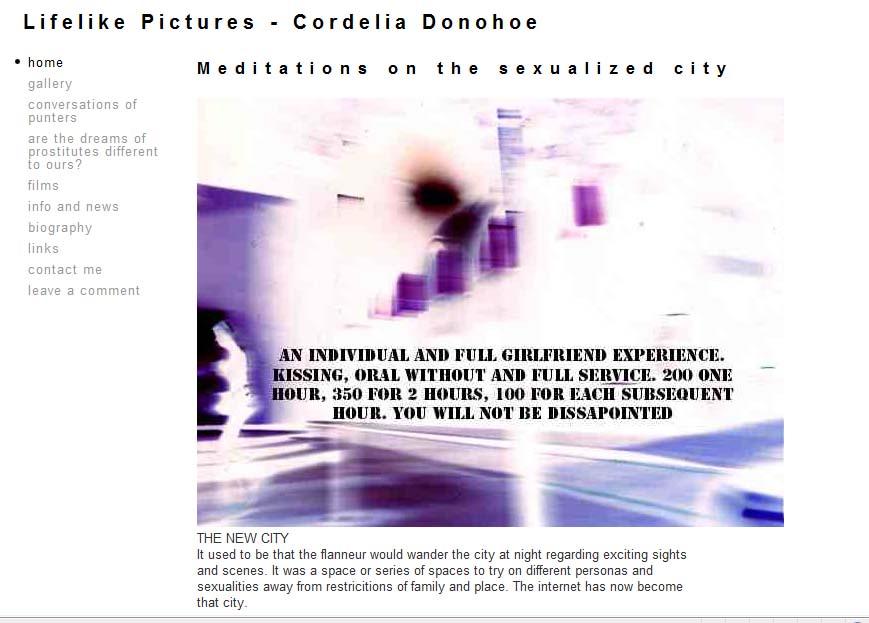 You might be interested in
Meet Cordelia: Filmmaker, photographer, feminist. A woman with a most interesting background who has lived with the titles of hippy runaway, punk rocker and rude girl before a stint as a camerawoman on BBC News and some time spent making films and documentaries in between.
You are watching: Little London Observationist
Her work as a portrait photographer – particularly a project focussing on London's many escorts and prostitutes – has influenced her latest artistic study of an "inner distortion that a woman goes through in order to commodify herself."
She's taken a bit of time out to answer some questions for this week's London Art Spot. Read on to hear about Cordelia's experience of being photographed nude for the sake of her art, the way she uses photography to help her deal with her mother's failing health and how her latest exhibition "Peeping Tom" explores the topic of voyeurism. She's also shared her short film, "The Occupants".
LLO: How does living in London influence your creativity? CD: I've lived in London all my life and since I was a small child I have been affected by the diverse influences – cultural, social, etc – that I have seen around me. My parents were antique dealers and they started out in Portobello Market. As a child and teenager I spent every single weekend there. It was a place of hippies, punks, indie bands, carnival as well as antiques, wealth and consoisseurship. It was an extraordinary and exciting place and I remember walking down the road at say 12 or 13 years and just staring at everyone and everything, taking it all in. That is what London is for me – a melting pot of everything. One's senses and preconceptions are assailed every day. There are always new ideas to be had. Sometimes it gets too much and you have to hide away to develop those ideas. I have lived in almost every part of London and now since I concentrate on making art, I'm poorer than when I worked in broadcasting and I live in Tottenham right on the River Lee. I'm between rural beauty and intense poverty with a city regeneration programme going on. It is a time of big changes and it is exciting. There is a sense of community here unlike other affluent or inner city areas. I would much rather be living here than in some established suburban area. I feel as if I'm part of something. And the river and reservoirs are just so beautiful.
LLO: Tell us about your project put together especially for the See You Next Tuesday festival. CD: The photographs on show at the New Players Theatre are part of a larger project I did about escorts in London, of which there are thousands. London has been described as saturated in prostitution by the Poppy Project, who undertake research in that industry. Escorting is basically prostitution with a 'nice' name and like lap or pole dancing has almost become normalised. As a portrait photographer, girls started coming to me for lingerie type shots to advertise themselves on the internet. I felt very weird about it and used these shoots and my interactions with the girls to question several things. In the process of constructing glamour photographs, you make a woman a "sight" and a commodity. This took me on a journey of looking at the history of the female nude and the pin-up photograph and from that I made a body of work using some of those portrait sessions with text asking questions about what the viewer is seeing. In the V-Day exhibition, I used photographs which came from me going myself to a pimp with a photo studio. She took nude photographs of me which I distorted and reworked to express something of the inner distortion that a woman goes through in order to commodify herself. There are also some other photographs in the show which came from my befriending one particular girl who retreated into some sort of fantasy world about being an angel or a fairy; I think in order to cope psychologically with what I believe can be a very traumatic experience. To be an other-worldly creature is to be able to transform things, to have a certain magical power. To be a prostitute is to somehow be transformed into a person outside the normal body of society, to be an outcast of sorts. I thought there was an interesting connection and dialogue between those ideas.
Read more : Antique Fairs in Cornwall
LLO: Your biography on the website starts like this: "Born in 1965 Hippy runaway in the early 70s Punk rocker in the mid 70s Rude girl by the early 80s" How does this background shape your film and photography today? CD: Gosh, that is a big question. I think being some sort of rebel has made me ask questions and doubt official answers. I have always wanted to go deeper and look at the underside of things. But I am always amazed that actually there are no answers, it's the process that is everything. Every project I undertake has no real end point; it is always the beginning of a long process of thought and questioning that then mutates into new questions. I do not really consider myself to be a photographer in the classic sense, I would rather call myself an artist who uses photography. I do strange things to conventional photographs, sometimes using found photographs, or I bring in disparate objects to make sculpture with them. All this goes beyond producing that 'perfect shot'.
LLO: Your current show, Peeping Tom, at Vegas Gallery in Bethnal Green is "exploring the notion of voyeurism and what art has to do with prying." How does your art explore these ideas? CD: I am looking at the notion of looking from a woman's point of view. I do not use photographs in the conventional sense. I want to get beyond what we might understand as prurient voyeurism to look at subjectivity and identity.
The photograph I used for that show came from a shot of an escort in my father's house. My father was very ill and I was looking after him. I was thinking deeply about my relationship to him and my status as a daughter and a woman when I took that photograph. In the picture I merged her into the wallpaper and wrote all over her. I was thinking of the quote from the bible. "My father's house has many rooms, and I will take you to be with me, so that you can be where I am". Here, I'm turning the father-son thing upside-down in looking at how a prostitute is actually the same as me or as any woman. She can never be a 'prostitute' to me, but only a reflection of my own womanliness.
LLO: What piece of photography are you most proud of and why? CD: I don't really feel proud of photographs in that sense because as soon as you achieve one thing it's onto the next challenge. But the photograph I most love is a recent photograph of my mother that came out as a double exposure by mistake, when I used an old-fashioned plate camera. I put the plate in twice. When the image slowly formed on the paper in the chemical bath in the darkroom, I felt such massive emotion. My mother has Alzheimer's and she is slowly forgetting everything. To me that photograph says something very poignant about that. Something about the dream of life, about letting go, about finding peace.
LLO: Which short film are you most proud of and why? CD: Im most proud of the short film The Occupants, which is a portrait of the people I lived with in a squat in the 90s. I was quite judgmental of some of those eccentric types, but making the film made me appreciate and like them and find us all very funny.
LLO: There's a lot of talk these days about film and other digital work eventually replacing photography. Other people argue that photography will always have a place. Where do you stand in that conversation, being someone who is involved in both mediums? CD: I don't think the moving image will replace the still image. They are different beings. The moving image involves time and sound, which are other dimensions. Old fashioned emulsion film has a wonderful feel to it and a nostalgia that will always have a place in my heart, but perhaps this is because I was born in the film age. I don't know if younger more digital generations will have this attachment to it. If you are talking about still photographs, well photographs are not truth; they are a reflection whether on emulsion or in digital signals of something that may have once existed and they often rely on context or need other information for their power. Chemical photographs have always been manipulated and changed, just think of the fashion in fake séance photographs in the 19th Century, or the Loch Ness Monster sightings. What has really changed is the ease of using and manipulating digital photographs. Anyone with a computer can do it, and the general public trust less and less the truth status of the photograph. I think it is a good thing, I like the democratization of the image, particularly via the internet and we should always take images with a pinch of salt. As for the look of them, digital images can have a more bright and contrasty aesthetic. But technology means that you can make digital look like film. Printing technology is so advanced, most people can't tell the difference nor do they really care.
Read more : The Best Markets to Visit in London
LLO: A lot of your work centres around certain projects, theories, stories, fictions, etc. It seems very driven by exploration of specific ideas. Can you talk about where your inspiration comes from? CD: I think at heart it comes from my burning questions about who we are and why we live the lives we live, what is important to us and what we love. We make up stories to make this time we have on the earth understandable, workable and bearable. Sometimes those stories work and sometimes they don't. I'm talking about gender identity, society, religion, love and work – the biggies. Film and photography have a place in these constructs, we've been brought up with them, and that is why I use them to question these things.
Both my parents were outsiders; we were a very small nuclear family. I did not grow up with certainty about who we were, with a large network of family or relations to bolster that so I guess my sense of family history and identity was limited and has caused me to be so inquisitive
LLO: Where is your favourite place in London to take your camera? CD: At my parents house, I love taking photographs of my mother. Perhaps it's because I'm trying to keep hold of her. I don't know. Of course they won't do this, but photographs of her affect me so deeply and I know that I will cherish them for the rest of my life. I don't think I would use them for an art project as I don't have enough distance on them and perhaps never will.
Thanks Cordelia!
For more of Cordelia's work, check out her website: http://www.lifelikepictures.co.uk/
For more London Art Spot interviews, click here.
Source: https://antiquewolrd.com
Categories: Antique News