Recently, large stores across the country, including some popular household names, have found themselves threatened with extinction from online competition and the knock on effects of the Covid-19 virus. Locally in Bridport though, we are fortunate to have an almost indestructible and ever changing retail 'experience', namely the street market which has been held almost continually since 1278.
You might be interested in
The name of the town is thought to have derived from two separate descriptions. In the 10th century, a fortified area nearby was referred to as 'Brydian', while in 1086, the Domesday Book recorded a town on the site named 'Brideport'. It would be natural to assume that the 'port' part of the name referred to Bridport Harbour, the original designation of what we now call West Bay. Unfortunately, this is history trying to tangle us in knots, as 'port' in Old English, in use at the time, could be used to describe a market town as well as a port! In other words, what became Bridport was known as a place which held a market well before the town was officially granted 'Borough' status in 1253 by Queen Eleanor, the wife of Henry III.
You are watching: To Market, to Market
There is evidence dating back to 1278 of a market being held in the town on two days of the week, although officially it wasn't until 1594 that Elizabeth I confirmed the right to hold twice weekly markets and three annual fairs. By this time, what is now RJ Balson & Son, Butchers had already been trading in the market for thirty nine years (from 1515), moving to their shop in West Allington in 1880 where they continue to trade to this day. This continuous period of ownership (five hundred and five years as at 2020) officially makes them the oldest family butchers in Britain.
Read more : Salvage Hunter Drew Pritchard who was born to find gold in junk is 'starting from scratch'
In 1593, a 'Markett House' was built on what is now the junction of South, East and West Streets, attached to an area for covered stalls, known as The Shambles. The whole area was badly damaged by a fire in 1782; what was left of The Shambles was removed to provide 'better paving, lighting, cleaning, and for removing nuisances and annoyances'. The current Georgian Town Hall including a Market House was built to replace the original buildings in 1786 at an equivalent cost today of approximately £500,000. At its height, the 'new' market included no less than 37 butcher's stalls, with 'Framptons' being the sole survivors in 2020 under what is now the Town Hall.
As the market grew, the sale of live sheep and cattle on the street expanded to such a degree that permanent pens were erected in West Street and Victoria Grove. This part of the market moved to St Michaels Lane in 1903, only closing in 1961.
The market, which operates completely outdoors with all of the stalls erected and dismantled each market day, trades on Wednesdays and Saturdays on West, South and East Streets. In recent years, other markets with no official connection to the street market have been introduced. The WI Hall in North Street held a Country Market on Saturday mornings, and a Farmers Market was held at the Arts Centre on Buckydoo Square every second Saturday of the month. Sadly, neither of these survived the lockdown period; however, the Bridport Antique & Vintage Market is still a popular draw on the last Sunday of every month between March and October at the St Michaels Trading Estate. The Historic Market offers an astounding variety of items for sale on the stalls which populate West, East and, in particular, South Street, all of which radiate from the Town Hall. Happily though, the market isn't frozen in time; it has changed to keep up with circumstances over the centuries. A good example of this adaptability came in 2020 when, during the Covid-19 pandemic, Downes Street, one of the exit roads from the Wykes Court car park, was temporarily closed to enable the food section of the market to operate from it, while maintaining the required social distancing guidelines.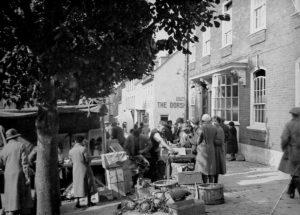 Read more : An Antique Lover's Guide to Cambridge
There's no fee for wandering around the market, and it's handily placed for you to visit Bridport Museum in South Street should you need a pause from your shopping spree!
All of the information included in this article is correct to the best of our knowledge. However, if you believe anything is incorrect, or would like to submit further information, then don't hesitate to get in touch.
Updated March 2023
Source: https://antiquewolrd.com
Categories: Antique News