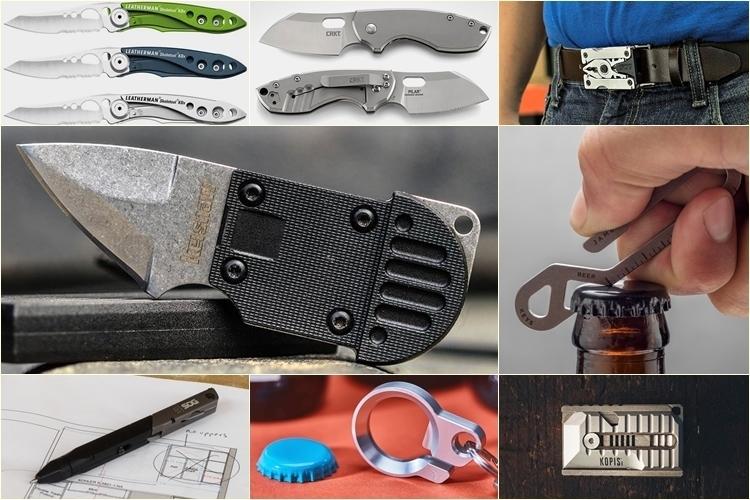 You might be interested in
We all have pocket knives and multi-tools we fall in love with, which we end up using year after year. Truth be told, I feel like that will be my relationship with the Gerber Center-Drive I picked up last year. Despite those loyalties being developed, new tools come out every year that might be worth paying attention to, as one of them could fulfill that missing piece your EDC kit has needed all along.
You are watching: The Coolest Multi-Tools and Pocket Knives of 2017
This year, these are the knives and multi-tools that made us pay attention:
SOG Baton Q1
Designed for everyday city use, this pen-shaped multi-tool comes with a ballpoint, scissors, a bottle opener, and a medium-sized flathead screwdriver. You know, the kind of things you'll need to survive in an office, a classroom, or the local library, rather than out in the world, as most multi-tools are designed for. The pen, by the way, is pressurized, so ink will come out even when you're writing on the ceiling, while the scissors come spring-assisted to let you take on any snipping task with ease.
CRKT Pilar
A compact folder with a minimalist design, this low-profile knife from CRKT pairs low-profile styling with excellent utility and an interesting backstory. Named after Ernest Hemingway's 38-foot long boat, the Pilar is a tribute to the world-famous author's penchant for the outdoors, with a capable function that the outfit believes will stand up to the challenges Hemingway would have encountered in his daily endeavors, whether he's hunting game, fishing at Michigan's lakes, or penning a new story.
Leatherman Juice CS3
Ask most people what they most frequently use a multi-tool for, chances are, the answer will revolve around opening stuff. From packages and beer bottles to canned goods and wine, that's just the need that regularly comes up. So why carry a thick and bulky Swiss Army Knife around? The Leatherman Juice CS3 drills down the multi-tool to the essentials, combining spring-assist scissors, a can opener, a bottle opener, and a corkscrew in a durable aluminum handle that measures a compact 3.45 inches when closed. If you're looking to downsize your everyday carry to the basics, this is for you.
Read more : Most Recent Dollar General Penny List (Full List)
SOG Sync 1
Belt buckles aren't the most popular form factor for multi-tools, mostly because they present a design challenge. Over the years, we've seen a few companies try it out to varying degrees of success. So far, this year's SOG Sync 1 has to be the best one we've seen yet, as it's able to fit an 11-function pliers-style multi-tool into the compact dimensions of a belt buckle. Want to wear a different belt for the day? Not a problem, as the buckle can also be removed and used on its own, with a clip-on design that allows it to latch onto belt straps, bag straps, and boots without any problems.
Ontario Knives Spax Multi-Tool
Billed as "the ultimate rescue and emergency tool," this handheld blade combines the functions of a hatchet, a pickaxe, and a machete while making it easier to open stuck fire hydrant and gas valves using a cutout in the middle. With a quarter-inch thick blade that measures eight inches long, this badass firefighting tool should let you slash your way through burning houses and backcountry bushes alike, making it a useful companion whether at home or in the outdoors.
The Hook by James Brand
Sized for use as a key fob, this bottle opener can pop off caps at the flick of a wrist, making it a perfect companion for tailgates and barbecues. It comes with laser-etched ruler markings for measuring how thick your burger patties are, along with a belt hook for keeping all your keys hanging from your hips. The whole thing comes in a powder-coated finish to emulate the appearance of cast iron and brass.
No products found.
Leatherman Skeletool KBX
Read more : The Story of the Treskilling Yellow
One of the best keychain knives around, this folder from Leatherman measures just 3.45 inches when closed, all while deploying a 2.6-inch blade when you need to perform some cutting and slicing. It's sharp enough to cut through rope and corrugated cardboard, light enough that you can forget it's even on your pocket, and functional enough that you'll find yourself reaching for it day after day. Hook it with your keys or keep it on the edge of your pocket with the integrated clip, which also doubles as a bottle opener for popping cold ones at the end of the day.
Kopis STK
Designed to fit in your pants' coin pocket, this slide-out multi-tool brings some excellent functions for its size. Pull out the titanium frame from your pocket and slide out the steel component to reveal two blades, one wide for standard slicing and a narrow one for scraping. There's also a 45-degree pry head that doubles as a flathead screwdriver, a quarter-inch bit driver that doubles as a bottle opener, a wingnut, and a wire-stripping notch, all while being capable of serving as a money clip for those who prefer carrying thick wads of cash around.
Check It Out
Grovemade Aluminum Key Ring
There's nothing complicated about this one. It's one good-looking key fob, whose ring design allows it to pop bottle caps with the same tenacity as your favorite bottle openers, apart from hooking into belt loops for wearing on your hip. Built from a single block of pure high-strength aluminum, this thing is nearly indestructible, all while sporting a high-luster finish that makes it a downright appealing companion for your keys.
Check It Out
Kershaw AM-6 Neck Knife
At just 3.25 inches long, it looks more like a thumb drive than a tactical knife, but with a quick-draw design and a full-tang blade, there's no denying the utility that Kershaw's AM-6 brings to your EDC stash. Slip it on the included sheath, then either squeeze it into a pocket or hang it from a lanyard for staying on the ready anywhere you are. Whether for ripping packages, slicing a sandwich, or plunging into someone's neck during a self-defense situation, this tiny knife can get the job done.
Source: https://antiquewolrd.com
Categories: Stamps