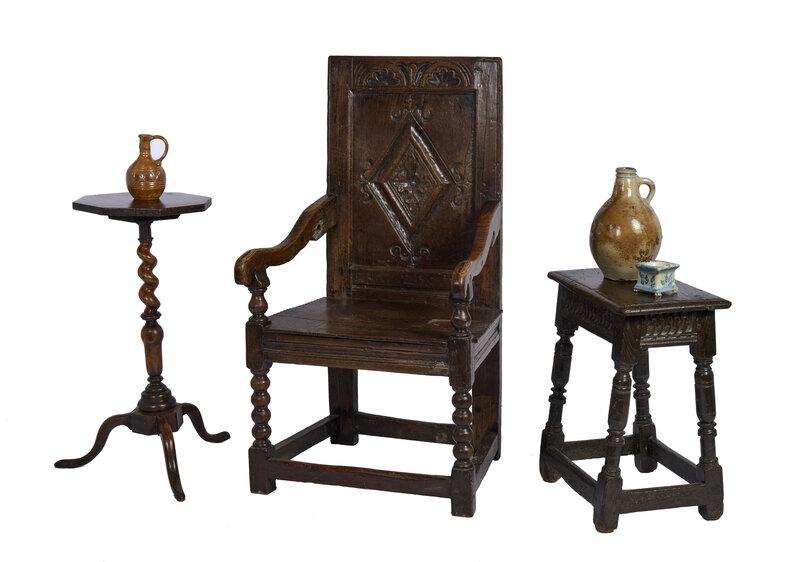 You might be interested in
Peter Bunting – A group of English early oak and country pieces. Left: Early C18th English candlestand with an oak top and a very nice turned fruitwood stem and an earthenware jug markedANNO MDCV (1605). Centre: Circa 1640 English oak wainscot chair from the North Country with a well carved panel. Right: A good English oak joyned stool circa 1680 with well-shaped frieze, and displaying a salt glazed German Bellamine pot circa 1600 and Early C18th delftware salt dish.
You are watching: The Decorative Antiques & Textiles Fair 9 -14 May 2023
Event: The Decorative Antiques & Textiles Fair Organiser: Harvey (Management Services) Ltd Venue: London Evolution (The Marquee), Battersea Park, London SW11 4NW Date: 9 -14 May 2023 FOLLOW THIS ORGANISER:
Catharine Miller – Jack Hilton (contemporary) Zenna Dog, Salmon Gull. Oil and collage on canvas, 81 x 81cm framed. Jack is the grandson of the revered modBrit artists Roger and Rose Hilton.
ABOUT THIS FAIR:
Spring in the Park! What could be more alluring than a beautiful event showcasing the best talent in the decorative antiques trade, set in the beautiful riverside Battersea Park, central London?
This year the Decorative Antiques & Textiles Fair 9-14 May 2023, has its second outing of the year the week after the coronation of King Charles III – certainly a hall mark edition! Amongst the 130+ stands of traditional and informal antiques, 20th century design and works of art is a seasonal focus on garden-related furniture, objects, planters and statuary.
Expect to see carefully gathered collections of country house antiques, art nouveau and deco designs, mid-century classics, glass and silverware, decorative textiles, out of the ordinary lighting and mirrors, collectable curios and unexpected treasures, shown alongside art and sculpture of all eras and styles from traditional to contemporary.
Read more : LORFORDS ANTIQUES
For the garden, discover unusual decorative objects, sculpture, planters and furniture with dealers such as Muse The Sculpture Company who specialise in contemporary bronzes and large-scale works to commission for outdoor spaces, Nicholas Gifford-Mead one of London's leading experts in fine antique garden furniture and statuary, Wakelin & Linfield who favour elegant ironwork decoration such as étagères (open shelves for displaying potted plants), benches and urns, Inglis-Hall Antiques where folk art weathervanes can often be found, The Home Bothy and Vagabond for stone and marble statuary pieces, D.J. Green Antiques for all manner of planters and garden pottery, Garden Artefacts with antique and vintage garden ephemera and Violet Grey for decorative urns, garden ceramics and garden furniture.
Hudson Antiques – French late C19th ebonized centre table with specimen marble top, priced at £5800.
Richard Steenberg – A fine Regency painted faux bamboo chest of drawers, circa 1820.English. Priced at £3600.
WHY YOU SHOULD VISIT THIS FAIR:
Amongst new exhibitors being welcomed this Spring are Anthony James & Son Ltd a long-standing London family firm specialising in antique furniture, mirrors and objects from the Queen Anne, Georgian, Regency and Victorian periods, and Sam Kohn Fine Living based in Lillie Road Fulham with decorative twentieth century design. The Organisers are also delighted to welcome back young dealer Jacksons Antique with Asian and European antique objects and works of art, and Marie Ducasse Design with mid-century furniture, lighting and decoration, who join the many regular exhibitors taking part.
Among objects you might find for sale: a Swedish modernist armchair in Svenkst Tenn floral upholstery, a fine Regency faux bamboo painted chest of drawers c1820, a pair of C19th porcelain parrots, a Queen Anne candlestand table c1700, a Carolean wainscot chair c1640, a ceramic horse by contemporary Spanish artist Luis Vidal, a late C18th French folk art painted marriage casket, or a George III mahogany fretwork stool with period needlework c1760.
A frequently observed and unique aspect of the Fair is the breadth of stock available across every period and style, to suit every budget; in fact it is possible to decorate any room in any type of house from top to toe, in myriad tastes, from extraordinary to understated, opulent to folksy, formal to fun. Prices at the Fair range from under £50 to £50,000+. Shop for sustainable, expertly crafted heirloom designs that have stood the test of time, and bring a unique sense of history to interiors and exteriors alike.
The Decorative Antiques & Textiles Fair has a relaxed and laid-back ambiance, where professional designers and trade buyers rub shoulders with private clients and international collectors of all ages. Celebrities and international royalty are often seen at the Fair in a private capacity, enjoying the freedom of browsing in peace. Among recent well-known faces have been, from the acting world, Phoebe Waller-Bridge and her film-directing partner Martin McDonagh, Eddie Redmayne, Jack Dee, Griff Rhys Jones, Michelle Dockery, Richard E. Grant, Francesca Annis, Nigel Havers and Stockard Channing; David Beckham, Guy Ritchie, Lady Bamford, Sir Paul Smith, Nick Candy (of Candy Brothers property); hoteliers Olga Polizzi and Kit Kemp, and leading interior decorators such as Nina Campbell, Rose Uniacke, Veere Grenney, Kelly Hoppen and Rita Konig.
Read more : Lostwithiel Antiques Capital of Cornwall
Geoffery Stead – A trio of early 20th century colourful glassware, from left: Nazeing vase, 1930s; John Walsh 'Pompeii' vase; French Schneider 'crackle' dish. Prices from £250-300.
Inglis Hall Antiques – Small French painted wooden casket, late C18th. Priced at £950.
TICKET INFO:
Admission: £20 per person on opening day and £10 p/p on subsequent days; Free entry daily from 4pm
For tickets and more information about the fair visit the Decorative Antiques & Textiles Fair
Visit;
ANF Calendar for future fair dates
Fairs + Dealers to read more about The Decorative Antiques & Textiles Fair
Cover Image: Decorative Fair
Tweet
Source: https://antiquewolrd.com
Categories: Antique News