London is a treasure trove of art and antique fairs, so why not wander around a spring fair and take something special home with you?
You might be interested in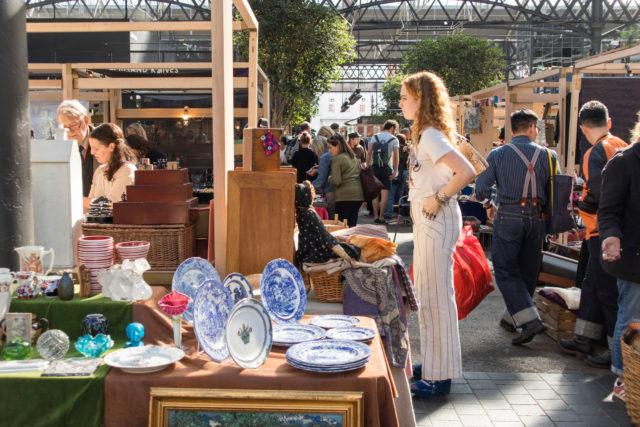 The Affordable Art Fair in Battersea Park (9-12 Mar, so hurry) hosts a hand-picked selection of contemporary galleries showcasing artworks priced from £50 to more than £7,000. There's even an exhibition celebrating International Women's Day with curated edits of the best pieces for under £500. If you miss the Battersea fair, head to Hampstead from 11-14 May. Who knows, you may pick up the next David Hockney.
You are watching: Discover London's unmissable art and antique fairs
Read more : What's on
Prefer to pick up some vintage clothing or jewellery? Clerkenwell Vintage Fashion Fair returns to host more than 60 top-drawer dealers in timeless fashion, accessories, trimmings and textiles (16 Apr). Shop for vintage pieces from the 1900s onwards alongside pre-loved designer labels including Biba, Dior and YSL. This riot of fabric and colour starts at 11am at the Royal National Hotel in Bloomsbury.
Chelsea is packed with antique shops, so you could visit some of those after a stroll around the Open Art Fair in Duke of York's Square (19-23 Apr). Sixty stalls will display paintings, drawings, photography, furniture, clocks, porcelain, silver, sculpture and jewellery, so get ready to treat yourself.
You'll find plenty more treasures at The Decorative Antiques & Textiles Fair in pretty Battersea Park (9 May). This much-respected fair was launched to unite the antiques and interior design trades, so you are certain to find inspiration here for your own home as you explore the room sets. Browse everything from silverware and table lamps to folk art and oak tables (which may not fit in your suitcase, but your concierge can help!).
Read more : How To Sell Antique Furniture? 7 Steps To Get A Successful Sale
Something you can take home with you is a good book. Firsts: London's Rare Book Fair at the Saatchi Gallery (18-21 May). It's one of the world's most popular and prestigious book fairs, so lovers of literature will find everything from second-hand classics to maps and unusual celebrity ephemera.
The Royal Horticultural Halls, just down the road from Tate Britain, opened in 1904 at the height of the Edwardian era. It's got a massive, vaulted glass roof that ensures the light floods in – ideal for showcasing the antiques and collectables at the monthly Adams Antiques Fair (26 Mar). It's incredibly popular so try to arrive early to grab a bargain.
If you want to wander around a vast antiques shop any day of the week, you could spend hours in the time warp that is Alfies Antiques in Marylebone. Four floors of this Art Deco building are choc-a-block with vintage clothing, jewellery, furniture and Italian lighting. The prices are competitive, and the staff are friendly and happy to fill you in on an item's history. There's even a café, though you could treat yourself to fish and chips at the famous Seashell of Lisson Grove, which is just around the corner.
Please like, share and comment below and see if we have anything else to inspire your next visit to London.
Source: https://antiquewolrd.com
Categories: Antique News